Posted on
Sun, Jul 17, 2011 : 4:30 p.m.
Ann Arbor Art Fair: What's the weather outlook?
By Ben Freed
A water bottle may be the essential accessory at the Ann Arbor Art Fair this year.
Fair-goers hoping for temperate weather will be disappointed by the National Weather Service's forecast for the annual four-day event. The good news is that a repeat of last year's storms isn't expected.
But it's going to be hot. Temperatures are currently predicted to reach the 90s for each day of the fair. Cory Behnke, a meteorologist at the National Weather Service's White Lake Township office said he expects that the NWS may issue a heat advisory and an excessive heat warning.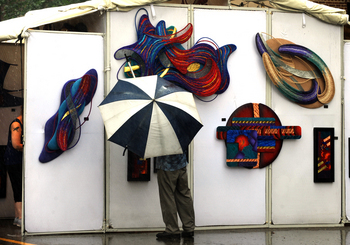 File photo | AnnArbor.com
"It's going to be hot, very hot," he said. "It's going to be a dry period but that means the temperatures are going to stay very high."
The weather service currently predicts high temperatures of 94 for Wednesday, 95 for Thursday, and 92 degrees on Friday.
According to Behnke, a heat advisory means that "a period of hot temperatures is expected, and the combination of heat and high humidity will create a situation where heat illness is possible."
An excessive heat warning is similar, but usually issued when a "more prolonged period of dangerously hot temperatures will occur," he said.
Last year, heavy thunderstorms swept through the fair on Friday forcing most artists to close their booths early. Behnke said the only day with a risk of rain is Saturday, but it's difficult to accurately predict a week in advance.
"Right now, it's a dry forecast, but you never know," he said. "We might get a better chance at some showers and thunderstorms as we head into the weekend."
Meanwhile, Sunday was declared an "action day" for elevated levels of ozone. Adults and children with asthma or those who plan to exercise outside were urged to be careful.
AnnArbor.com will be covering the Art Fair all week. Here are a couple of previews to get you started:
Ben Freed is a summer intern at AnnArbor.com. You can reach him by email at benfreed@annarbor.com or by phone at (734)-623-4674. Follow him on Twitter @BFreedInA2.