Posted on
Thu, Oct 11, 2012 : 5:59 a.m.
Neighbors living in the shadow of U-M's Big House 'embrace Michigan football'
By bob horning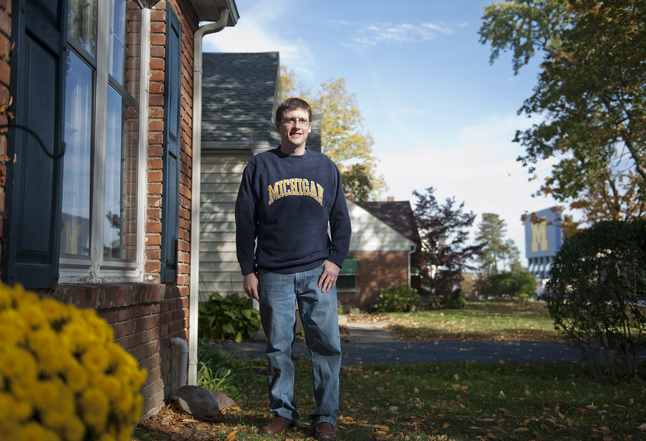 Daniel Brenner I AnnArbor.com
Talking with some of the residents just west of
Main Street
and across the street from Michigan Stadium the other day brought some surprises.
Even though Ann Arbor is winding down its third straight week without a home football game, this is the area where usually thousands of football fans cross on their way to and from the game on Saturday, bringing noise, chaos, and some litter.
Life changes in the neighborhood during autumn weekends. I had assumed that many would resent the intrusion upon their peace, or at least be glad when the day was done.
However, it seems clear from my small sampling that just the opposite is true — that football games and all that go with them are a big, intentional, and welcome part of their life. Everyone I talked to looked forward to the fans, the tailgaters, the excitement, the atmosphere and socializing they bring with them.
Chris Kiser is one example. Years ago, he grew frustrated always trying to find parking for the game. He came up with a radical solution: buy a house near the stadium. Now he provides parking for others.
At first, he rented the six or seven parking spots on his property, but gradually opened them to friends, mostly fellow pharmacists who work at or attended U-M. They come from as far away as Kalamazoo, and even from Tennessee and Minnesota for a game or two every season.
"The nice thing," he said, "Is that they all turned out to be good cooks, so we each bring a dish and eat together. One week every year we have a chili cook-off. I have some secret ingredients, so I do pretty well."
More from the Beyond Football series
Miss last week's story? Check out the links below for all the Beyond Football stories from this season.
He has what he calls a three bears (as in Goldilocks) attitude towards the starting time of the games: "Noon is too early, 8 p.m. is too late because it leaves too much time for some fans for (bad) merriment, but 3:30 p.m. is just right. It lends to a varied menu and allows sufficient time for eating.
A block west of Kiser is Tim Sperlbaum, his wife, Kim, and two daughters, Alexa and Daleaney. When it was near time for Alexa to be born about 13 years ago, Kim began taking castor oil to induce labor so that Alexa would arrive before the football season. That way they wouldn't miss any games and also could show her off to those who tailgate on their lawn.
As his daughters have grown, they have sold cookies, Rice Krispies treats, and hot apple cider to raise money for school trips. And those who park at their house have come to know each other well — some even attending the weddings of each other's children.
Sperlbaum said his neighbors are close-knit, too. "We have block parties during the year and constantly help each other out. Football Saturday becomes another social event for us. Everyone looks forward to it. If there are a few who don't, they still like making money parking cars."
Tim doesn't even mind night games, though he has to get up at 3:30 a.m. Sunday for work. Last year, he recorded the Notre Dame game so he still could get to bed by 8:30 p.m. and watch it later.
Karen Moore lives with her son Tyler, 12, on Potter Street. Her claim to fame was having Joe Falls, the late sports columnist for the Detroit Free Press and News, park at their house whenever he came to the game. "He was wonderful," she said.
Tyler enjoys the excitement and the fact that every one is so nice that parks at their house, especially when he gets a free ticket from one of them. If he doesn't go to the game, he plays football with other kids in the area.
"Most neighbors I know like the atmosphere of the day," Karen said. "We don't even leave after the game starts because it's nice hanging around. There are lots of second and third generation families in the neighborhood. I lived here with my parents, moved away, and then came back. We also like how the stadium is being used for other events now."
Alex and Julie Roberts met at U-M. Like Karen, they moved away from Ann Arbor, but when they returned, wanting to live close to downtown and near the stadium.
"We embrace Michigan football," Julie said. "When our son and daughter, now 12 and 10, were younger, we would often have the windows open while watching the game on TV. We heard the roar of the crowd when we scored, so would tell them to watch closely because something good was going to happen. Right after, due to the video delay, the touchdown would show on TV. They never could figure out how we knew every time."
Now, after the family watches Bridget's soccer game in the morning, Julie usually goes to the football games with her son, Jackson, so a mid-afternoon kickoff is perfect for their schedule. Alex prefers watching on television with Bridget.
Then there is Marie McGonagle. She lives with her son, Jason Kehrl, who owns their home on Snyder. Ten of the people who tailgate on their property were fraternity brothers at U-M. "Their wives always send along good food, and they share it with us, so I don't have to cook," she said. "I like that. Having them around brings back good memories of when I was in school here in the seventies."
She has to think a moment to come up with negatives, but finds some small ones. "It does tie up the whole day, and there is a loss of privacy since the tailgaters are here a long time and use the downstairs bathroom; there is also some extra clean up of trash and beer cans; and our neighbors played loud music until four in the morning after the night game last year. That's why I prefer noon games. All in all, though, it is a great experience, and my son makes exactly enough on parking cars to pay his property taxes."
Across the street from Marie, Al Renfrew lives, alone, since his wife died. Some of you will remember him as the Michigan hockey coach from 1957-1973. An Internet search told me he won the NCAA hockey championship as both a player and coach. After retiring as coach, he became ticket manager for the athletic department.
His son and daughter have friends who park in the backyard and go to the game, though Al, 87, doesn't go anymore. "I'm too old for that," he said. "I watch it on TV instead. It can be a mess over there. After the Notre Dame game there were people looking for their cars at 2:00 a.m."
Renfrew, being the oldest person I talked to, gets the last word with an interesting summary of game day. He said "it seems that there is so much else going on that the game has become incidental."
Bob Horning, a lifelong Ann Arbor resident, is writing U-M gameday stories for AnnArbor.com. If you have ideas for future columns, please email news@annarbor.com.