beyond football:

'Officer Laura' in 4th year of directing U-M fans in front of Michigan Stadium

Posted on Sat, Sep 15, 2012 : 2:56 p.m.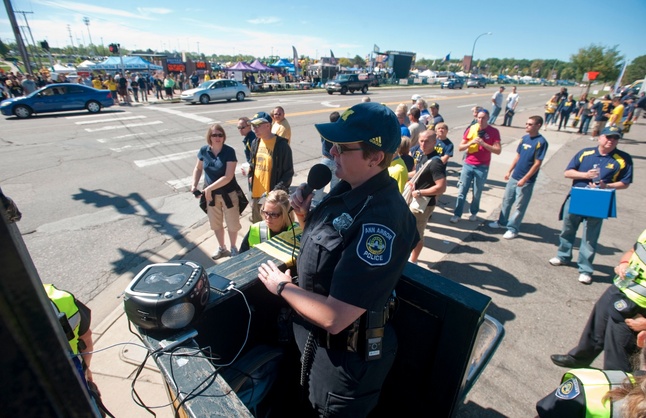 Courtney Sacco | AnnArbor.com
She might be the most visible person at a University of Michigan football game other than those on the playing field.
Before and after each game, Ann Arbor Police Detective Laura Burke stands at a podium at the corner of Stadium and South Main Street, talking to the pedestrians over the loud speaker and helping them cross safely. In the course of the day that's thousands and thousands of people.
Now in her fourth season at the post, Burke at first seems a mismatch for the job. In fact, six or seven years ago, she wouldn't have considered doing it.
"I never liked talking to large groups of people, and am by no means a comedian like some of my predecessors," she said. "I wasn't a big football fan, but I'm learning more each season. I'm a bigger fan of the marching band.
"But I directed traffic at that intersection for several years and began to think it would be fun."
She applied for the job when Detective Brian Zasadny retired.
"I'm not Officer Brian, or Officer Tom before him, but I have developed my own style and I think the fans are happy with Officer Laura," she said.
Just last week she learned what a tight end is because the son of an Ann Arbor Police Department lieutenant plays that position for Air Force. Each week she reads enough about the opposing team to have something interesting to share with the fans walking by her perch, and enough to tease the opponent's fans.
"I try to do it respectfully, though," she said, "and they (hopefully) know I'm just joking."
She regularly has a football trivia question or two ready for the pedestrians, and also fits in something about the band.
Last week, she talked about Cooper Barton, the kindergartener in Oklahoma who was forced to turn his Michigan T-shirt inside out when he wore it to school.
Burke admits to being apprehensive her first season and getting nervious.
"But I truly enjoy the interaction now," she said. "Doing this has helped me grow in confidence in general. "
Unfortunate circumstances lead to Burke becoming a police officer. While in junior high in Lansing, her parents' home and yard were frequent targets of vandalism. One morning they woke up to find their trees cut down (with a hand saw to reduce the noise), and another time her pet rabbit was soaked from the rain and covered with red Kool-Aid.
Each time, the same female police officer responded to her parents' complaint. Burke was so impressed with her that one night they talked at length and Laura was hooked.
She graduated with a degree in criminal justice from Ferris State University and joined the AAPD 21 years ago. Her first four years were on road patrol, but since then she has been a detective, working primarily the south and west sides of town.
"It can be fun, sad, and frustrating, but I can't see myself doing any other work," she said. "And no one recognizes me as 'Officer Laura' since I don't wear a uniform during the week."
Her day at the stadium begins with a team briefing three to four hours before game time, then everyone heads to their post. Until the number of pedestrians increases sufficiently, the traffic signals do the work at Stadium and Main, and Officer Laura simply asks everyone to walk with the signals.
Burke says that "negative comments from fans are rare. They appreciate what we do, and we get a lot of high fives and 'go blue.'
"At some games, like MSU and Ohio State, the fans can be more boisterous and more rowdy - and more intoxicated. Every so often we have to put someone in the nearby squad car to calm down, and we have had to issue tickets occasionally.
"Our goal is not to inconvenience anyone, but to keep them from being hit by a car. I frequently remind fans that having open beer containers on city streets is illegal, and ask them to dump it out."
Shortly after kickoff, Burke and the other officers leave for their assigned duties inside the stadium - dealing with drunks or fights, or just being visible. She often gets to watch the band at half-time.
Normally at the end of the third quarter, when fans begin to leave, officers go back to Stadium and Main and are there until an hour or so after the end of the game.
Then it's back home for Officer Laura to spend time with her husband, Dan, (a firefighter in Scio Township) and her sons, ages 12 and 10. And by then, she's no longer a cop until Monday morning.
Bob Horning, a lifelong Ann Arbor resident, is writing U-M gameday stories for AnnArbor.com. If you have ideas for future columns, please email news@annarbor.com.