Posted on
Wed, Jun 27, 2012 : 2:51 p.m.
The heat is on: High temperature could top 100 in Ann Arbor Thursday
By Cindy Heflin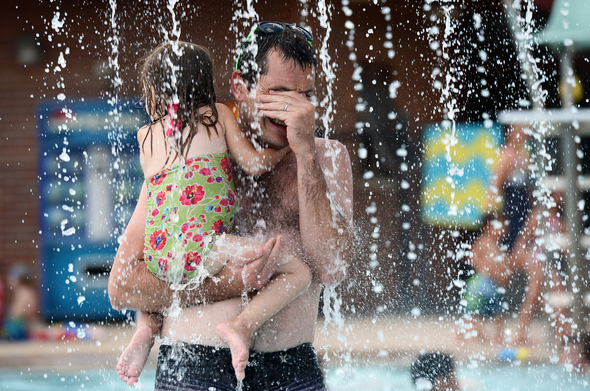 Melanie Maxwell | AnnArbor.com
Editor's note: This story has been updated with new forecast information.
If you were planning to mow the lawn or work in the garden Thursday, you might want to put it off. It's going to be a scorcher, with the high possibly topping 100 degrees.
That's the word from Debra Elliott, observation program leader for the National Weather Service in White Lake Township.
Whether the thermometer actually reaches that high will likely depend on whether clouds move in in the afternoon, keeping temperatures down a bit, she said. "It's hard to be too exact," she said. "You could see temperatures a little higher or little lower."
The weather service's official forecast calls for a high of 101 degrees. The agency issued a heat advisory in effect from noon to 9 p.m. for the Ann Arbor area.
The record for June 28 is 103 degrees, set in 1934 said University of Michigan weather observer Dennis Kahlbaum.
Temperatures this afternoon are expected to reach near 90. Friday, a high of 93 is forecasted, although thunderstorms could cool things off a bit for part of the afternoon. The chance of rain is about 30 percent.
The weekend will bring highs near 90 Saturday and Sunday. Monday will be a bit cooler with mostly sunny skies and a high of about 86.
The heat wave comes in the midst of a prolonged dry spell, and follows a few days of 90-degree weather last week.
Thursday also has been declared an ozone action day for Washtenaw County. The Department of Environmental Quality said pollutants are expected to be in the unhealthy range for sensitive groups.
The alerts are issued when ground-level ozone and fine particle pollution exceed levels considered healthy. The department urges people and businesses to avoid activities that lead to ozone formation. These activities include refueling vehicles, using gasoline powered lawn equipment and using charcoal lighter fluid.
The department also urges people, especially those with respiratory conditions such as asthma, to avoid prolonged outdoor exertion.
If you do decide to brave the heat for a little outdoor exertion, you might consider a walk to Washtenaw Dairy, 602 S. Ashley St., for a cooling treat. Surprisingly, extra hot days are not the busiest for ice cream sales, said store manager George Cook.
"Sometimes it's just so hot people don't want to move around," he said. "It'll be a busy day, but it won't be anything like a record."
For updated conditions and forecasts anytime, check AnnArbor.com's weather page.
Looking for a way to cool off? Here's a map to some of the top destinations to beat the heat around Washtenaw County:
View Ann Arbor Summer in a larger map