No drought yet - but hot and abnormally dry June is stressing plants
Posted on Wed, Jun 27, 2012 : 5:59 a.m.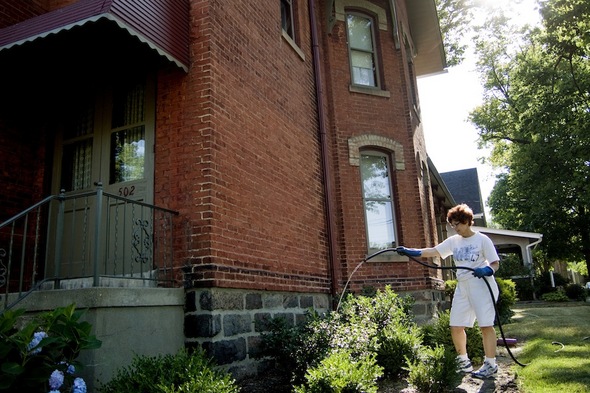 Jeffrey Smith | AnnArbor.com

Ann Arbor resident Barb Gilbert spent some time Tuesday evening training a garden hose on the flowering plants in her yard.

"I've been watering every other day," she said. "Usually I don't water at all. This is the driest I've ever seen it this early in the season. Usually it's like this in August. I don't want my hydrangeas to suffer; they're so pretty."

All that dry weather Gilbert has been noticing has turned many lawns to brown and is stressing some farmers' crops.

"We're abnormally dry," said Cory Behnke, a meteorologist with the National Weather Service in White Lake Township.

Records kept at Detroit Metro Airport show this month so far being the 10th driest June on record. Rain gauges at the airport have collected 1.31 inches so far this month, 1.77 inches short of the normal 3.08 inches. For the year, the airport has recorded 13.04 inches of precipitation, while the normal amount would be 15.62, he said.

The story is much the same in Ann Arbor, where we've had 13.15 inches for the year, said University of Michigan weather observer Dennis Kahlbaum. Normal precipitation at this point in the year would be 17.50 inches.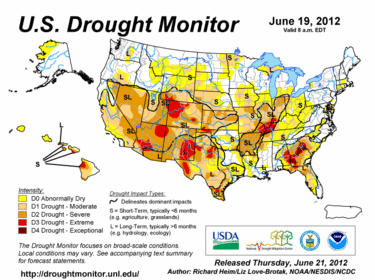 All this is not enough to elicit a drought advisory for Washtenaw County from
U.S. Drought Monitor
, but it is enough for the agency to give the area an abnormally dry rating. Much of the country is under some sort of drought designation. To our south, Lenawee and Monroe counties are designated as having moderate drought conditions.
The hot and dry conditions so far this month have turned lawns brown and resulted in several grass fires in the area, including one Tuesday along U.S. 23 in Salem Township.
"It's like a tinderbox out there," said Pittsfield Township Fire Chief Sean Gleason. After several fires, Pittsfield issued a ban on open burning earlier this month. The City of Saline issued a similar ban.
The weather forecast offers little relief in coming days. Some showers are possible Thursday, Friday and Sunday, but very hot conditions will return after several days of reprieve from above-90 temperatures.
Forecasters expect a high of about 87 degrees under mostly sunny skies Wednesday. It will be blustery with winds gusting to 23 mph.
The really hot stuff moves in Thursday when the thermometer will rise to about 97. Sunny skies and blustery conditions will stay with us as winds gust to 18 mph. Thursday night, there's a 30 percent chance of showers and thunderstorms.
Friday, the chance of showers and thunderstorms will remain under partly sunny skies. A high of 91 is expected.
Saturday, expect a mostly sunny day with a high near 90.
The chance of thunderstorms returns Sunday under partly sunny skies. The high temperature is expected to be about 88.
For those worrying about the impact of the dry conditions on their lawns and gardens, the best advice is to follow the example of Barb Gilbert and turn on the hose or sprinkler.
Charles Slick, an employee at Downtown Home and Garden in Ann Arbor, said established perennials should do OK in the dry conditions, but new plantings and annuals definitely need regular watering.
Lawns damaged by dry conditions generally will recover, Slick said, but they may be weedier than normal because weeds tend to grow in hot, dry conditions, while grass does not.
"If you water now you're going to have less weeds to deal with later, and water is organic," he said.
For updated weather conditions and forecasts anytime, check AnnArbor.com's weather page.