Posted on
Fri, Feb 24, 2012 : 1:18 p.m.
This week's 5 most popular news and business stories on AnnArbor.com
By Elizabeth Edwards
Here's a list of this week's most popular news and business stories. The "Walk of Shame Mock Commercial" by University of Michigan student Kellyann Wargo made many readers chuckle as it went viral and topped this week's list of most-viewed stories.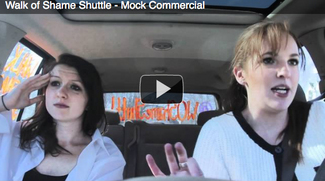 1.
UPDATED/WITH VIDEO: U-M student's 'Walk of Shame' shuttle service idea goes viral:
A University of Michigan student is getting a lot of attention for a business idea she hatched called the "Walk of Shame Shuttle" and the "mock commercial" for it that she put up on YouTube.
2. Winter blast could dump up to 5 inches of snow on Ann Arbor area: A new blast of snow headed toward Ann Arbor could dump up to 5 inches on the area by Friday, the National Weather Service says.
3. Winter storm watch: Up to 6 inches of snow predicted in Ann Arbor: This could be the real deal. The National Weather Service has issued a winter storm watch for Thursday evening through Friday morning, warning that the Ann Arbor area could get 6 inches of snow or more.
4. Former Ann Arbor man dies after being hit by SUV; driver charged: A family reunion weekend turned tragic Sunday evening when an SUV struck and killed a former Ann Arbor resident as he was standing on a sidewalk in Austin, Texas.
5. Top 15 bars: Ann Arbor's liquor sales grew 7 percent in 2011: A look at statewide data for wholesale liquor sales to bars and restaurants that, in turn, sell it for consumption on their premises shows sales and revenue growth in 2011.