Ypsilanti Courier:

Thompson Block building barracks deemed historic site

Posted on Tue, Aug 7, 2012 : 12:30 p.m.
Two months after Ypsilanti high school students painted a Civil War mural on the side of the building, the Michigan Historical Commission is recognizing Thompson Block as a historical site, the Ypsilanti Courier reported.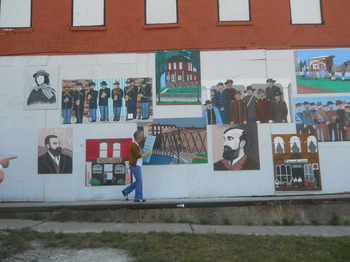 Katrease Stafford | AnnArbor.com
Gary Pritchard
, a member of the 17th Michigan Volunteer Infantry Regiment Company E, Inc., installed the state-issued historical marker in front of Thompson Block July 26.
Pritchard and the other members of the volunteer infantry initially wrote what they wanted to be represented on the marker, but the Michigan Historical Commission determined the final wording to display on the marker.
A large fire gutted the Thompson Block building on Jan. 23, 2009. Developer Stewart Beal, whose company Historic Equities Fund 1 LLC owns the building, and the city ended up in court over a disagreement on how to proceed with the building's renovation.
AnnArbor.com reported in April that the building is now painted and partly sealed. Beal has approximately 15 months left to complete the building's "envelope," including finishing the roof. The southeast portion of the structure also remains partially collapsed.
Read the full story on the Ypsilanti Courier's website.