Posted on
Sat, Jul 9, 2011 : 5:58 a.m.
Top 5: Signs that Bongs & Thongs indicate downtown Ann Arbor is at a crossroads
By Paula Gardner
My first visit to downtown Ann Arbor came when, as a freshman at the University of Michigan, I met a city native on a fall bus ride from North Campus.
We talked about the city with our respective friends, and I asked many questions about it.
Finally, I said: "Is there a bad part of town?"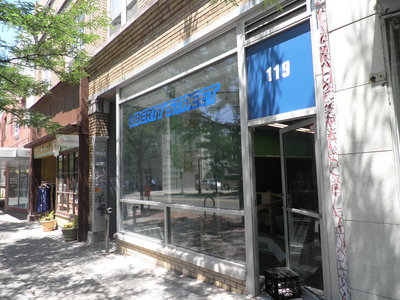 Lizzy Alfs | AnnArbor.com
The four of us walked a few blocks along East Liberty, passed the old University Cellar bookstore at South Division and made a turn. Then, as we stopped mid-block on South Fourth Avenue, I got a peek at Ann Arbor's red light district.
Standing in front of the Capital Market and neighboring adult book store, I didn't feel much tension between the city's haves and have nots. I didn't feel unsafe. I didn't even feel like going inside.
Those establishments weren't as benign to the downtown as they seemed to me that night, but the recent news that Ann Arbor's newest retailer blends "smoking" products and adult novelties brings back a little nostalgia.
And - while I admit that I sound like I'm no fun at all when I say this - the new Bongs & Thongs store also makes me feel like downtown is at a new turning point.
We've seen gentrification. We've lived the fears that high prices will drive the soul from the city. We've battled for parking, for affordable housing, for design standards and to hold onto retailers as restaurants took over. Some in town fought to "clean up" Fourth Avenue.
As a community, Ann Arbor has passionately defended its downtown and protected it from changes deemed unworthy.
And as a result, we've become a jewel of Michigan and a marketer's dream.
I'm a fan of the free market as downtown retail and restaurant spaces change. Small, independent and quirky retailers can still find a home here. But we do have to wonder why this space was empty since fall 2009 - and what it says about the city when Bongs & Thongs sets up a block from Main Street.
After the store opens, it may mean that the next national travel writers tour sponsored by the Convention & Visitors Bureau probably will be directed along East Washington Street. Shakolad fits a tourist magazine much better than rolling papers and lingerie.
Parents might linger with their children at the Cupcake Station instead of Kilwin's.
But the rest of us also might need to consider these Top 5 reasons that downtown Ann Arbor is at a crossroads.
1. Bongs & Thongs: We know there's a market for both, since Ann Arbor already supports non-conjoined versions of the stores. Take the Safe Sex Store on South University - it's faded into the "longtime retailer" generalization for anyone talking about the street. But in a town that not too long ago welcomed rumors that Crate & Barrel might open downtown, the contrast - in image, backing and inventory - is rather striking. We used to worry about chain stores coming to Main Street. Now it's more about discount drug paraphernalia.
2. That shooting: What shooting, you ask? The one on Thompson Street on June 29, when two people robbed a man during a drug deal, then shot him in the leg as he ran away. The incident is a collection of red flags. It happened before 11 p.m. It was an open-air drug buy. It happened in the shadows of a multi-million apartment building under construction where people soon will pay top-dollar for housing. It's a couple of blocks off the Diag. The shooter aimed at a moving target. There's a boldness there that should make us uncomfortable.
3. That silence over the shooting: Remember when crime downtown could get merchants and city officials fired up? The latest incident sparked no public rallying cry. Don't we want a downtown advocacy that gets a little strident when something threatens perceptions of public safety? Or even a strong voice or two to get some more police patrols? Maybe the University of Michigan should be chiming in, too, since the shooting was a block from a couple of dormitories.
4. On-street parking. Once a rarity downtown, the ability to find a metered parking space seems to have dramatically improved. Yes, this is just anecdotal - the Downtown Development Authority is still compiling annual data. But it's also the observation of several serious downtown-watchers, who wonder: Is this a serious trend?
5. Empty tables during what should be the lunch rush at restaurants. Think operating a restaurant in downtown Ann Arbor is, as one developer likes to say, the goose that lays a golden egg? Visit any successful restaurant at noon and you'll get a different perspective - and one that immediately will inspire you to agree with assessments that attracting more office tenants to the district needs to be a priority.
Adding one store with "edgy" inventory to the downtown mix won't drastically change it. But it does give Ann Arbor a chance to look at what it means amid other changes in the district.
Paula Gardner is News Director of AnnArbor.com. Contact her at 734-623-2586 or by email.