Posted on
Fri, Feb 8, 2013 : 2:53 p.m.
Top 5 things I learned from being in the front seat of a Washtenaw County snowplow
By Amy Biolchini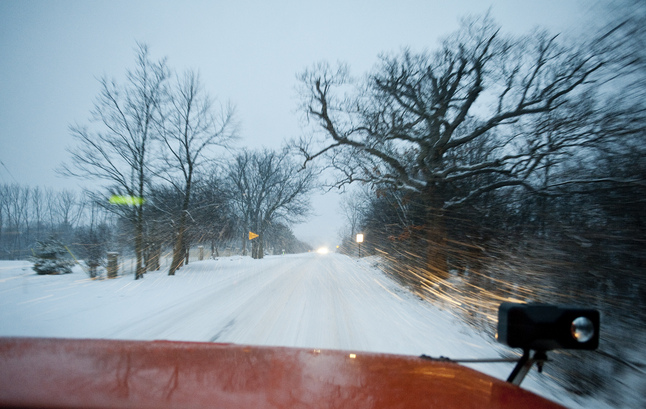 Daniel Brenner | AnnArbor.com
Riding shotgun
in a
Washtenaw County Road Commission
snowplow at 5 a.m. Friday wearing a bright yellow safety vest, I kept asking myself "How did I get here?"
The disbelief faded as the plow truck navigated then-snowy Interstate 94 through the darkness on the west side of Ann Arbor with an ease that my Honda Civic could only dream of.
Scraping slush and spreading salt, the truck's driver, Dan Clark of Grass Lake, guided the vehicle loaded with 10 tons of salt on a route that is intimately familiar to him and quickly became the same to me as well: I-94 from Zeeb Road to State Street and back again. And again. And again. And again.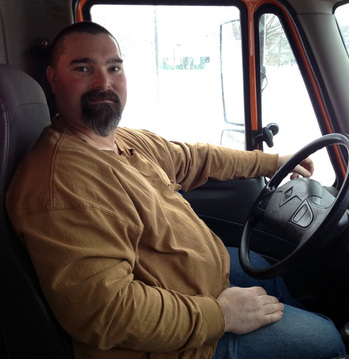 Amy Biolchini | AnnArbor.com
Documenting the road conditions and
weather during Friday morning'
s rush hour in
real time for AnnArbor.com
, I got a crash course in what it means to be on the front lines when snow falls.
Here are the top five things I learned from the experience:
1. Road conditions change -- fast.
Friday, Clark and 45 other day shift drivers started plowing at 4:30 a.m. Clark began by scraping off the two inches of snow off I-94 and spreading salt in his wake.
The road commission also has a team of four plow truck drivers that work the main interstate highways at night from 8 p.m. to 4:30 a.m. They worked to spread salt to combat the freezing rain that hit the area between 10 p.m. Thursday and midnight.
By the time Clark and I had made the first two passes over his route Friday morning, I-94 was shaping up and by 6:30 a.m., the roadway was clear and the pavement was wet. Traffic had increased and drivers were traveling between 60 and 70 miles per hour.
Clark turned his attention to the on and off ramps for I-94, and we noticed it had started sleeting.
The sleet slowly intensified into flakes of snow. In a matter of 15 minutes, the snow went from melting on the road's surface to sticking. By 7 a.m. I-94 was covered in a soft cover of snow - undoing two hours of Clark's work.
Traffic slowed to a respectable 40 miles per hour.
"That's the biggest bummer of this job," Clark said.
To drivers that just got on I-94, the road didn't look like Clark and other plow truck drivers had been working since 4:30 a.m., Clark said.
2. How to tell when a wet road is turning into an icy road.
As a result of working for the road commission for the past eight years, Clark can tell when a road that's wet from melting snow is turning into ice from his seat in his plow truck.
It's an important skill, as Clark has to make the call when the road needs to be salted and when the salt that he's spread on previous passes will still be effective.
Clark offered these tips:
Look at the line between lanes of traffic and between the wheel tracks made by other cars. If there's slush building up, the temperature is likely dropping and ice may be forming.
Look at the tires of other cars. If there's water coming off the tires, the road is still wet. If not, the road is frozen.
Check your side mirrors. If it's cold enough that water on the mirrors is frozen, chances are the road is that cold, too.
3. On a snowy morning, a highway will likely be the clearest roadway.
The Washtenaw County Road Commission targets its initial snow-clearing efforts to 581 lane miles of state highways and primary roads that are its first priority. In Washtenaw County, those include I-94, U.S. 23 and M-14.
Subdivisions and gravel roads are the last on the road commission's list - and if snow falls on a Friday, there's a possibility that some of the more minor roads in the county won't be plowed until Monday, said Jim Harmon, director of operations for the road commission.
This Friday, Harmon said the day shift plow truck crews would be clearing subdivision streets by making one pass down and back on each road. Salt will also be spread down the middle of a subdivision street, but the streets won't be cleared from curb to curb to make sure the crews can get to as many streets as possible, Harmon said.
4. People don't often appreciate the plow truck drivers.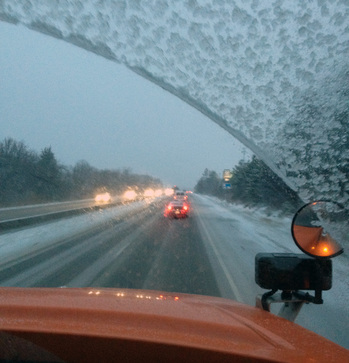 Amy Biolchini | AnnArbor.com
Clark's job is sometimes thankless. On the road for hours from the wee hours of the morning until late in the afternoon or evening, depending on the weather conditions, it's nonstop driving - sometimes racking up between 300 and 400 miles per shift, Clark said.
The reaction from other drivers on the road is not always positive. Clark typically travels at about 45 miles per hour when he's plowing the shoulders of the roadway - which makes some impatient drivers honk their horns or get angry.
"Some people give me the thumbs up, and some people give me the middle finger," Clark said. "There are a lot of haters out there."
5. Enjoy the view.
The front seat of the plow truck lends itself to an interesting show on the road.
Though Clark's regular route covers the same stretch of I-94 from State Street to Zeeb Road in a loop for hours, there's always something Clark finds amusing.
Sometimes it's a red-tailed hawk swooping above the tree line. Other times it's the traffic pattern or an impatient driver.
Friday morning, the real show was the droopy pine trees laden with heavy snow that line the I-94 corridor in southwest Ann Arbor.
Drivers navigated the changing road conditions with minimal problems, and the light snow that had accelerated in several hours between 7 and 8:30 tapered off by 9 a.m.
Amy Biolchini covers Washtenaw County, health and environmental issues for AnnArbor.com. Reach her at (734) 623-2552, amybiolchini@annarbor.com or on Twitter.