Posted on
Thu, Jun 24, 2010 : 7 a.m.
Tornado touchdowns reported near Saline, Milan; storms dump 2-4 inches of rain on Ann Arbor area
By Amalie Nash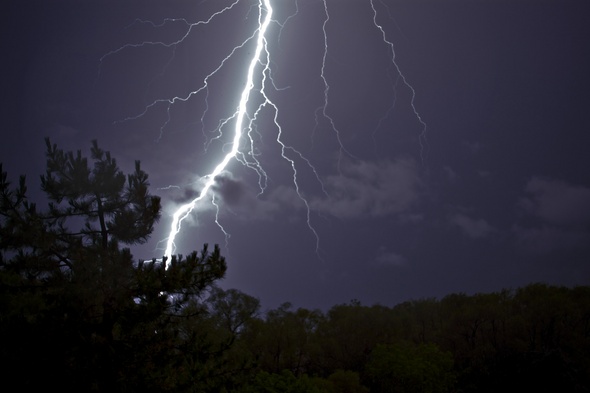 Photo courtesy of Kara A. Makara
Tornado touchdowns were reported near Saline and Milan Wednesday night as a severe thunderstorm moved through Washtenaw County, causing wind gusts up to 72 mph and dumping 2-4 inches of rain.
No significant damage was reported as a result of the storms, but downed trees on roadways and downed power lines kept emergency crews busy late into the night.
At 9:56 p.m., a trained weather spotter reported a touchdown from a tornado at the intersection of Saline-Milan Road and Jewell Road in York Township.
Sheriff's deputies responded to the area and didn't find evidence of a touchdown. But Marc Breckenridge, director of the county's Emergency Operations Center, cautioned that in a rural area, it could be hard to see evidence at night - especially since it was believed to have touched down in a field. He said officials will go back on Thursday morning to double check.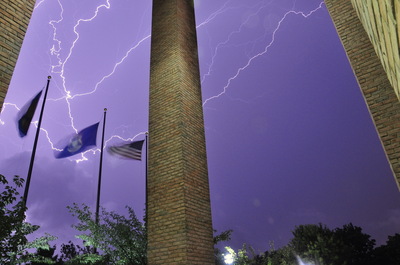 Photo courtesy of Eric Eckstein
Television reports said several people in the area saw the tornado near their homes.
A few minutes later, at 10:08 p.m., another weather spotter reported a 72-mile-per-hour wind gust at Whittaker and Willis roads in Augusta Township. At 10:14 p.m., another trained weather spotter reported a tornado between Milan and Maybee.
Breckenridge said officials have heard several reports of downed power lines and trees, but, as of 11 p.m., no structural damage had been reported.
"Still it's night, and not everyone will notice whether or not their house had damage until the morning," he said.
Firefighters responded to a reported house fire on M-52 outside Chelsea at 11:53 p.m., and several other local departments were called for assistance. It wasn't immediately clear whether the fire was related to the storms.
Police and fire officials in Ann Arbor, Ypsilanti and Pittsfield Township said they had received multiple calls of downed trees, but no reports of serious damage.
Saline Fire Chief Craig Hoeft said a house in Saline was struck by lightning, but the house did not catch fire. A tree fell on a house in Saline Township late Wednesday, but no one was injured, Hoeft said.
Meteorologist Dave Gurney of the National Weather Service's White Lake Township office said the storms were winding down and heading southeast of Monroe County at 11:40 p.m.
The National Weather Service will send crews to Washtenaw County on Thursday to verify whether the sightings were tornadoes or straight-line winds, Gurney said.
"Looking at the radar, there's a good chance of at least one tornado," he said. "The team will look at any damage patterns, figure out how wide the path was and how long it may have been on the ground."
The possible tornadoes come just two and a half weeks after a tornado touched down in Dundee, causing significant damage there. And on Friday night, severe storms were blamed for a fatal car crash and at least three fires.
The areas hardest hit by Wednesday's storms were Washtenaw, Lenawee and Monroe counties, officials said.
The intense lightning that lasted for several minutes - most active south of Ann Arbor - was the result of a solid line of several storms that lasted longer than usual, Gurney said.
The storm dumped 2 to 4 inches in some areas, prompting the National Weather Service to issue a flood advisory for Washtenaw County. Runoff from excessive rain was expected to cause minor flooding in Ann Arbor, Chelsea, Manchester, Saline, Ypsilanti, Dixboro and Willis.
The advisory had expired by Thursday morning, and National Weather Service officials said they did not receive reports of any significant flooding overnight.
The tornado warning prompted the cancellation of Top of the Park, and the Ann Arbor school board, meeting in the downtown district library, took shelter in the basement.
DTE spokesman John Austerberry said about 700 customers remained without power in Washtenaw County this morning, and about 4,000 total were without power in southeast Michigan. He said DTE hopes to have everyone's power restored today.
Think that's it on the storm front for a while? Think again.
Gurney said there's the potential for more severe thunderstorms on Saturday and Sunday.
"It's been a pretty busy last six weeks or so," he said.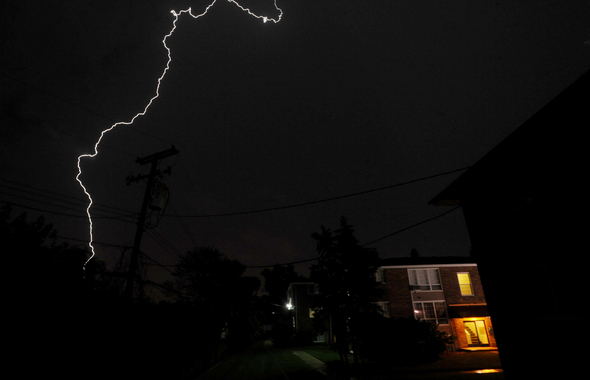 Melanie Maxwell | AnnArbor.com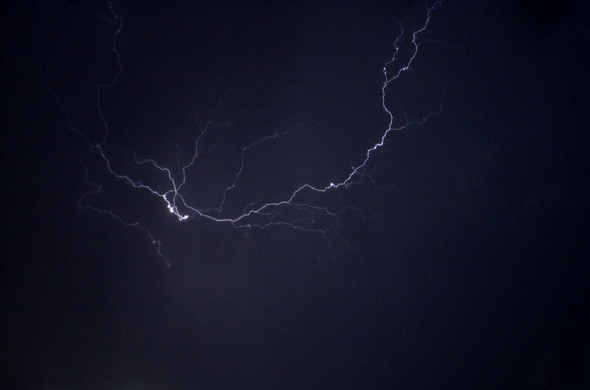 Melanie Maxwell | AnnArbor.com
AnnArbor.com's David Jesse and Cindy Heflin contributed to this report.