Posted on
Thu, Sep 29, 2011 : 5:59 a.m.
Coming soon: Trayless dining in University of Michigan dorm cafeterias
By Kellie Woodhouse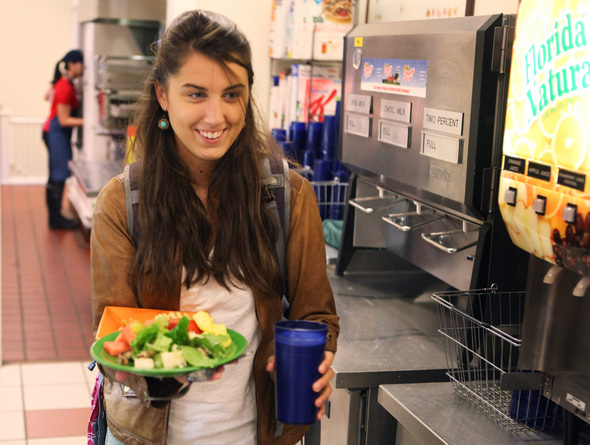 Jeff Sainlar I AnnArbor.com
College students will have to find something else to sled on.
The University of Michigan announced this week that it plans to gradually get rid of cafeteria trays.
Cafeteria trays are considered far and wide the easiest way to carry a meal from the counter to the table. What else can so flawlessly balance one's silverware, sandwich, soda and slice of apple pie as they traverse the cafeteria to their table?
But higher education institutions are adopting an increasingly common belief that those trays are more detrimental than beneficial.
Cafeteria trays, U-M officials say, waste food, water, energy and manpower. Getting rid of them will save thousands of gallons of water per year, not to mention a lot of food.
"The amount of chemicals and water it takes to wash trays, if you can reduce that you're helping the environment," said Mike Lee, director of residential dining services.
U-M is not the first institution to go trayless. According to National Association of College and University Food Services, more than 100 institutions have gone trayless completely, starting as early as 2007.
Those institutions include rivals Ohio State University, Northwestern University and San Diego State University. Michigan State University is partially trayless.
The benefits can be measured: In its first year of going trayless, the University of Maine at Farmington, with an enrollment of about 2,300 students, conserved 288,000 gallons of water. In fiscal 2009, the U-M used 1.24 billion gallons of water.
Also, a study conducted by NACUFS in 2009 reported that students wasted 2.79 ounces less food when their schools went trayless. A 2008 study by Aramark Higher Education found that trayless dining led to 25 to 20 percent less waste in dining halls.
Peter Logan, communications director for University Housing, said that because of their size and convenience, trays encourage students to take more food than they would otherwise.
"A tray is really a very convenient way of putting more food in front of you, food that you may not necessarily eat," Logan said. "When you eliminate the tray and students are carrying a plate of food, they are often a little more thoughtful of how much to take by virtue of the fact that its not easy to pile up plates and carry as much food at one time."
All the extra food piled on conventional trays can also lead to weight gain —otherwise known as the freshman 15— says Rachel Warner, marketing manager for NACUFS.
"From a health perspective, it can reduce the amount of food that students are consuming as well," she said.
"Without a tray, customers are much less likely to load up their plates," Warner continued.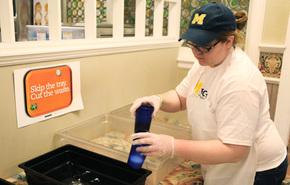 Jeff Sainlar I AnnArbor.com
Betsy Barbour Dining Hall on Central Campus is already trayless. As one of U-M's smallest dining halls, Barbour's service area is very close to the eating areas, making it easy for students to make multiple trips.
The university plans to make Twigs at Oxford dining hall near South Campus trayless by the end of the semester. In the East Quad and North Quad dining halls, the university has been experimenting with serving smaller portion sizes and placing trays at food counters, instead of near dining hall entrances, to encourage less waste.
Starting this year, any newly built or renovated dining halls will be trayless. That will begin with East Quad, which the university will start renovating in the spring.
Renovations are necessary for many dining halls to make the switch.
"In some of our more historic facilities that haven't been renovated where the eating area is long distance form the service area, getting students to walk back and forth for items is difficult," Lee said.
For that to work at East Quad, Lee says, students have to understand the philosophy of trayless dining.
"It will be more of a challenge," said Lee. "We will have to be extremely intentional in working on educating our students."
"They're definitely following a trend," Warner said. "It's considered by many to be a lot more sustainable option."
Senior Arthur Snow transferred to U-M from New York University his junior year. NYU had trayless dining throughout campus.
"It was fine," Snow said. "It meant that you couldn't put a lot of on your plate at one time… so it did mean a lot more trips."
"But if they save water and soap from washing less trays, then I think it makes sense," he continued. "Those benefits would still outweigh the inconvenience."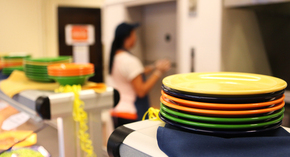 Jeff Sainlar I AnnArbor.com
But not all students are excited about the university's plans.
"For me, I really like using a tray. It's hard to carry everything back and forth," said U-M freshman Sarah Cunningham. "It would be difficult for me… convenience-wise."
Julia Paketa, a U-M freshman, agreed.
"That would be horrible because I'd have to put things down in awkward places and people would be spilling things all over themselves," she said.
But U-M senior Allison Neuman felt opposite.
"I don't see why people would be opposed. It would save a lot of water and a lot of manpower,". "So what if you have to walk a few extra steps?"
Neuman also said that once trays are gone all together, students will get used to it.
"As they start to get rid of them, the incoming students won't even realize they were ever available."
Kellie Woodhouse covers higher education for AnnArbor.com. Reach her at kelliewoodhouse@annarbor.com or 734-623-4602 and follow her on twitter.