Posted on
Tue, Sep 27, 2011 : 11:18 a.m.
University of Michigan launches $14M sustainability initiative
By Kellie Woodhouse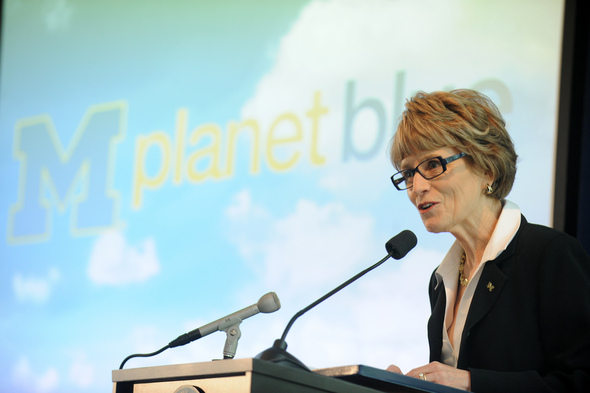 Angela Cesere | AnnArbor.com
Hybrid buses, solar panels and a lot less trash: Those are some of the changes students at the University of Michigan will see in the coming years.
U-M President Mary Sue Coleman announced these changes during a speech on sustainability she gave today at the Hatcher Graduate Library on the Diag in Ann Arbor.
"I want the message to be clear: Sustainability defines the University of Michigan," Coleman said. "Combine maize and blue and you get green."
Among the changes:
Solar panels will be installed on North Campus. The panels will create enough energy to use for about 50 houses, Coleman said.

The introduction of hybrid buses on campus. One in six buses will now be hybrids, starting next semester. The goal is to have all buses be hybrids by 2025.

All new and renovated dining halls from this point forward will become tray-less. U-M dining halls serve about 2.5 million meals a year. The change will mean "wasting less food and washing far fewer trays," Coleman said.

The reduction of greenhouse gas emissions by 25 percent by 2025. "These reductions will be challenging for us to meet, but because of our tremendous scope the results will be significant," Coleman said. "It will be as if we remove more than 41,000 cars from the road."

Twenty percent of food will come from "local, sustainable" food sources by 2025.

A drastic reduction in trash. "We will shrink the amount of waste sent to landfills by 40 percent," Coleman said.

A commitment to apply 40 percent less chemicals to trees, grass and walkways on U-M grounds, "to protect the Huron River, a beloved natural feature of our community," Coleman said.

The introduction of new minor in sustainability
The changes, Coleman said, will cost approximately $14 million. Already, the university has spent $60 million in efforts to make existing buildings more energy efficient.
Courtesy of the University of Michigan
Coleman said the university would regularly evaluate progress made on its sustainability initiatives.
"As we do all of this and more, we will scientifically measure and report our progress and behavior," Coleman said. "Transparency matters… we will be sustainable and we will be visible."
Coleman said the changes would begin to make sustainability more visible on the campus, more embraced by students and more of a core value at the university.
"I believe this will begin to infuse everything that we will do," Coleman said. "We've been sort of stealth about it… we wanted to convince ourselves that this is doable."
Coleman also said that the new initiatives mark a new era in sustainability on campus.
"We care, we care and we're going to be talking about it a lot more," she said. "My fondest hope is that we will get this natural evolution. That people will see that Michigan is not just talking, they're walking the walk."
Coleman did say that the new sustainability efforts were a challenge to accommodate, given a tight budget year.
"I have to be realistic with all of you, we have huge pressures on us to provide services," she said. "We worked really, really hard but we also faced fiscal realities that we have to deal with."
Coleman also said she received some negative feedback on the solar panels for their aesthetic.
"What we are planning on north campus will be plenty visible," Coleman said. "I've gotten objections, and I've gotten people who have said 'Oh they're ugly.'"
Kellie Woodhouse covers higher education for AnnArbor.com. Reach her at kelliewoodhouse@annarbor.com or 734-623-4602 and follow her on twitter.