Posted on
Thu, Jan 17, 2013 : 11 a.m.
Trial set for MSU student from Saline accused of assault and filing false report
By John Counts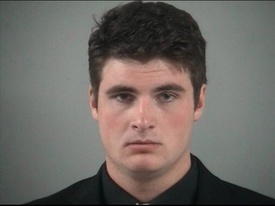 East Lansing Police Department
A trial is scheduled to begin on Jan. 28 for the 20-year-old Saline man accused of assaulting his ex-girlfriend at a party and then lying to police about what actually transpired there, MLive reports.
Michigan State University student Brandon Carmack appeared Wednesday before an Ingham County judge for a pretrial hearing when the date was set.
Carmack initially claimed MSU hockey players beat him up at a gathering in East Lansing, but police later alleged he was the aggressor and he was charged with assault and battery and filing a false police report, MLive reported.
Carmack is charged with two counts of assault and battery, domestic assault and battery, filing a false police report of a felony, first-degree home invasion and stalking.