Posted on
Wed, Apr 3, 2013 : 5:49 p.m.
Troopers: Man killed in rollover crash on U.S. 23 was not wearing seatbelt
By Kyle Feldscher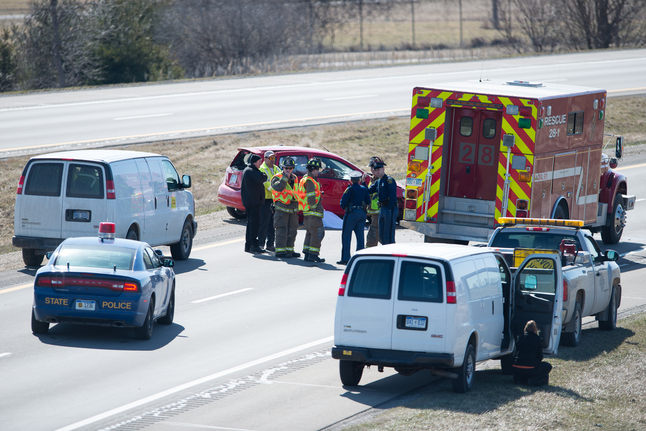 Courtney Sacco | AnnArbor.com
The 49-year-old Ypsilanti man killed in a rollover crash on U.S. 23 Wednesday morning was not wearing his seatbelt when his vehicle went off the roadway, police said.
Police said the red 2004 Chevrolet Aveo the man was driving was northbound on U.S. 23 approaching Carpenter Road. The car went off the roadway, and the driver lost control of the vehicle, crossed both northbound lanes and entered the center median.
Once in the center median, the Aveo began to roll and the man was thrown from the vehicle, Michigan State Police said in a press release. The man and the Aveo both came to rest in the left lane of southbound U.S. 23. The driver was pronounced dead at the scene.
Michigan State Troopers were dispatched at 10:03 a.m. to southbound U.S. 23 near Carpenter Road in York Township to investigate the single- vehicle accident.
Troopers said preliminary investigation shows the man was not wearing his seatbelt at the time of the crash. Huron Valley Ambulance officials said the man was under the car when emergency personnel arrived on scene.
The investigation into the accident continues, and police are not sure why the man's car left the roadway when he was in the northbound lanes.
Troopers are not releasing the man's name until his family is notified, according to the police statement.
The freeway was closed for almost two and a half hours for investigation into the crash.
The crash was the second fatal accident in Washtenaw County Wednesday morning. A 38-year-old man was killed on Whittaker Road in Ypsilanti Township when the box truck he was driving hit a tree. The Washtenaw County Sheriff's Office is investigating that crash.
The man's name has not been released by sheriff's office officials. The box truck was the only vehicle involved in the crash.
Kyle Feldscher covers cops and courts for AnnArbor.com. He can be reached at kylefeldscher@annarbor.com or you can follow him on Twitter.