Posted on
Thu, Mar 28, 2013 : 7:51 p.m.
Pittsfield Township passes truck route ordinance to reduce traffic through residential neighborhoods
By Kody Klein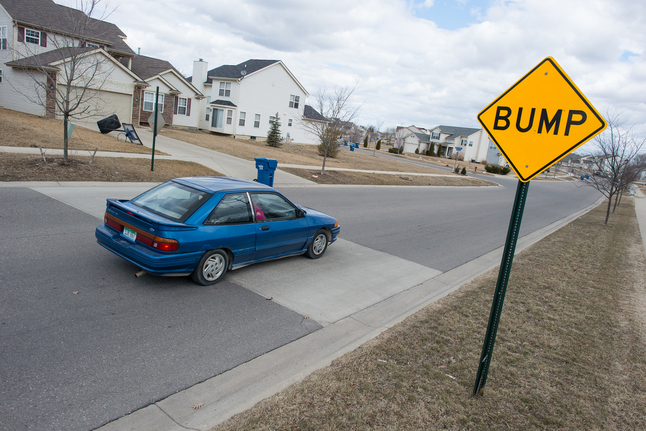 Courtney Sacco I AnnArbor.com
Commercial trucks driving through Pittsfield Township will have to plan their routes a little more carefully due to a new truck route ordinance.
The township's Board of Trustees unanimously passed the new ordinance at it's meeting on Wednesday.
"Throughout the township, we have pretty high incidents of cut-through traffic in most of our residential neighborhoods," said Mandy Grewal, Pittsfield Township supervisor. "This is a step towards reducing the heavy traffic cut-through."
The ordinance specifies a list of streets trucks will be able to use and all other streets will be off-limits.
"It's been a while coming," Grewal said. "We have a township road committee and that committee has been deliberating this from various parts of the township."
The ordinance applies to a trucks carrying goods or merchandise with a collective weight of 10,001 pounds or more. This does not include passenger vehicles, governmentally-owned or leased vehicles, public utility vehicles, motor homes or recreational vehicles, or any truck used for moving.
Exceptions to the ordinance will be made for trucks executing routine deliveries within the restricted zones as long as they take the most direct route possible.
The township will pay the Washtenaw County Road Commission to install signs designating which routes trucks must avoid. She said the road commission has estimated that installation of each sign will cost the township $300.
Anyone caught in violation of the ordinance will be fined between $250 and $500.
The signs to designate which routes are off-limits will be installed in bursts throughout each year until 2016.
"We will be enforcing only in those neighborhoods where the signs have gone up," Grewal said.
The streets the ordinance permits commercial trucks to use are:
Golfside Road between Clark Road and Packard Road
Munger Road between Michigan Avenue and Textile Road
Carpenter Road
Hogback Road
US-23
Platt Road between Ellsworth Road and Bemis Road
Stone School Road between Ellsworth Road and Varsity Drive
State Road
Moon Road between Michigan Avenue and Bemis Road
Varsity Drive, Highland, Concourse Drive, Runway Boulevard, Venture Drive, Avis Drive, Fairfield Court, Technology Drive, Data Court, Lavender, Hines, McDowell Place, Whitmore, Interfirst, State Circle, Plaza, N. Airport Boulevard, Airport Boulevard, Airport Drive, Oak Valley Drive, Lohr Circle, and Old State Road
Clark Road
Washtenaw Avenue
Packard Road
Ellsworth Road
I-94
Michigan Avenue
Textile Road between Munger Road and US-23
Bemis Road
Lohr and Waters Road
Textile Road between Hines/Interfirst and Maple Road
Morgan Road between Michigan Avenue and US-23
Morgan Road between State Road and Ann Arbor Railroad Track
Maple Road
Kody Klein is an intern for AnnArbor.com. Reach him at kklein@mlive.com