Posted on
Sat, May 4, 2013 : 11:28 a.m.
University of Michigan students graduate and prepare 'to take the next step'
By Kellie Woodhouse
Courtney Sacco | AnnArbor.com
Related coverage: Images from University of Michigan's spring 2013 commencement
More than 5,000 University of Michigan graduates came together Saturday at Michigan Stadium to celebrate what many described as the greatest accomplishment of their lives, and now they'll disperse all over the world.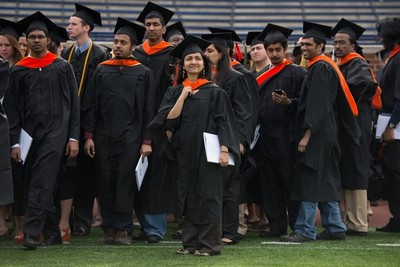 Courtney Sacco | AnnArbor.com
Some are going to medical school or applying to graduate programs, others are traveling around Europe. Many have taken jobs far away from Michigan, from engineering toys in Texas to facilitating ATV tours in Alaska. Some are waiting in Ann Arbor as they look for a job.
"It's exciting. I definitely am not sure if I'm ready to take the next step, but I really don't have a choice now do I?" joked Sam Lewis, a public policy major who is staying in Ann Arbor this summer and then going to Washington, D.C. in the fall. He's still looking for a job. "It's overwhelming. It's a lot to celebrate."
Roughly 5,900 undergraduates and 4,400 graduates are receiving their degrees this spring. The university's main commencement ceremony was Saturday at 10 a.m. at Michigan Stadium.
Graduates hail from all 50 states and more than 100 countries. Twitter CEO and U-M alumnus Dick Costolo spoke during the ceremony.
"It's scary to see what's going to come next but it's also exciting, for the new opportunities," said Alexis Steward, an architecture major planning to travel across Europe this summer. Steward is applying for jobs in her field to "get some experience under my belt outside of school."
Anisha Chadha, a microbiology major, gave remarks during the commencement ceremony.
"At this point in our lives as we set out into the real world it is so easy to feel uncertain, to feel that this is a big world and you are just one small person," she told the crowd. "Always remember you are contributing to our class's Michigan Difference.
For many students, the fact that they've graduated hasn't fully set in.
"It didn't feel real until this morning, until we put on our gowns," said program and environment major Elizabeth Pearce as she lined up to go into the stadium. "Last night I was feeling guilty. I was like 'we should be studying,' and then I remembered I don't have to do that anymore."
Added Myah Ray, who is attending medical school at Michigan State University in the fall.
"It's almost surreal because you dream about this moment and it's finally happening ... it probably won't set in until tomorrow."
Math and statistics major Devin Riley, who is still looking for a job, called graduating "cathartic."
"It's just a lot of release, a huge weight off my shoulders," he said Saturday. "I realize I don't have to think about school anymore at all. Everything is wide open, so it feels pretty great."
Courtney Sacco | AnnArbor.com
Claudia Lampert, an engineering major that is moving to Texas for a job in the toy manufacturing business, is the first in her family of immigrants to graduate from an American college.
"This just makes everything worth it, all the hard work," she said Saturday.
In 2011, 54 percent of the graduates of U-M's College of Literature, Sciences and the Arts secured jobs before or shortly after graduation and 38 percent chose to continue their education, according to a voluntary response survey.
"It doesn't feel like that long ago that I came into the undergrad program," said Elizabeth Showalter as she prepared to graduate Saturday. She is taking a year off to live abroad and apply to public health graduate school programs.
Added her mom, Janice: "Wow. This is happening. There's a feeling of accomplishment that she did it."
Dustin Wright, a movement science major, wants to get a job at the university this summer and apply to graduate school.
"It's bittersweet. I've been here five years and last year I just didn't want to go so I stayed another one," he said.
"I think we're ready to move on, but it's hard to do."
Kellie Woodhouse covers higher education for AnnArbor.com. Reach her at kelliewoodhouse@annarbor.com or 734-623-4602 and follow her on twitter.