mackinac 2012:

Former Senate Majority Leader Mike Bishop on how political culture in Lansing has changed

Posted on Wed, May 30, 2012 : 12:28 p.m.
MACKINAC ISLAND — As one of Gov. Jennifer Granholm's foremost adversaries, former Senate Majority Leader Mike Bishop was known for making waves in the Legislature.
The Republican from Oakland County was term limited in 2010 and today practices law in Birmingham and is running for Oakland County prosecutor.
Bishop, a 1989 honors graduate of the University of Michigan who remembers when Ann Arbor's now-closed Full Moon was a destination bar in the 1980s, caught up with AnnArbor.com on Wednesday during the Detroit Regional Chamber's Mackinac Policy Conference.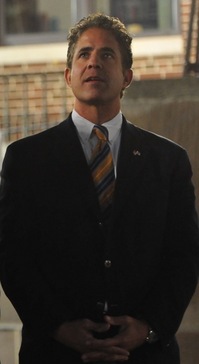 File photo | AnnArbor.com
He reminisced on his time in Lansing and what's changed since Gov. Rick Snyder and the Republicans took control of state government in Michigan in 2011.
"It's a lot better now since I've been gone, only because I think everybody's on the same team and rowing in the same direction," he said. "We have a good leader at the top of the ticket who has done a good job of putting some good ideas on the table and a good support group that knows where they need to go to turn the state around."
Bishop said he's also witnessing a budget process that's drastically different from what he saw when he was in the Legislature up until two years ago.
"It's functional. The other years that I was there it was dysfunctional," he said. "It all has to do with the leader, and when I was there I didn't have the leader they have here today who has the ability to grab things by the horns and bring them across the finish line."
Many would beg to differ with Bishop's take on what's happening in Lansing, though, as there's an effort under way to recall Snyder. Michigan Rising, the Super PAC that is running the recall campaign, said Tuesday it had distributed more than 50,000 petitions and set up eight stationary signing locations, including one in Ypsilanti.
The recall petition language was filed in Washtenaw County because it is Snyder's county of residence. A similar recall effort failed last year when it failed to collect enough signatures.
Bishop was characterized by Granholm and the Democrats as an obstructionist when he controlled the Senate, and that's not something he's quick to dispute.
"There's a lot of bad stuff that needs to be stopped," he said. "And unfortunately a lot of other things get stopped at the same time, but I had a responsibility for the good of the state to make sure some of the stuff she pushed didn't get through."
Bishop said he's still "a little bit involved on the outside" in Michigan politics and is still frequently consulted by his Republican peers on solutions for the state. Asked for his predictions for Michigan's future in the next five years, Bishop said "bright."
And he gives a lot of credit to Snyder, who is continuing to use phrases like "relentless positive action" and "reinventing Michigan" on the island this week.
"The climate here in Michigan is so much different," Bishop said. "The relentless positive attitude has really changed this state and the way people work together. It's really encouraging from what I used to see. It's amazing what a difference a couple years can make."