U-M goes up in U.S. News best colleges list, ending 5-year slide
Posted on Tue, Sep 13, 2011 : 2:40 p.m.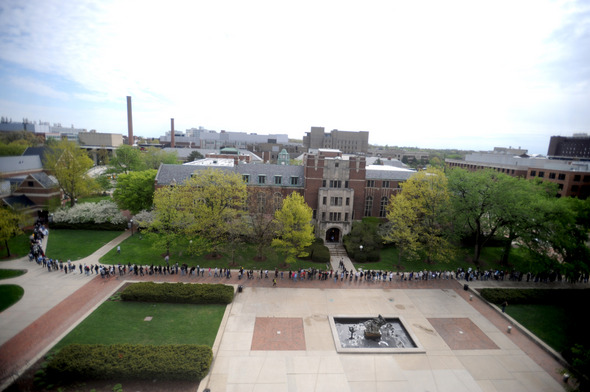 Angele Cesere | AnnArbor.com
The University of Michigan moved up a spot this year on U.S. News & World Report's annual list of best universities, breaking its downward trend on the list over the previous five years.
The university ranked 28th on the 2012 list, up from 29th last year.
Until this year, U-M had gone down at least one spot in the U.S. News list since 2007. Here's a rundown of U-M's performance on the ranking list since 2007:
2012: 28
2011: 29
2010: 27
2009: 26
2008: 25
2007: 24
U-M spokesman Rick Fitzgerald said while U-M is "always happy to be ranked highly," rankings "aren't always the best way to measure the quality of a university or the best way to pick the best school."
Fitzgerald also offered an explanation for U-M's drop on the rankings list from No. 24 in 2007 to No. 28 this year.
"The schools that were moving ahead of us were almost all private institutions," Fitzgerald said, adding that the U.S. News list "tends to favor private institutions" in "its weighing of various characteristics."
Among public universities, U-M was ranked 4th nationally for the 4th consecutive year, unable to regain the No. 2 spot it held in 2007 or the No. 3 spot it held in 2008.
But while U-M has gradually slipped from the No. 2 to No. 4 among public universities on the list, other public schools have remained strong in their rating.
The University of California-Berkley has been ranked 1st among public universities by U.S. News since 2007. The University of Virginia has also held its No. 2 ranking since 2007 (having tied with U-M for 2nd place that year).
Overall on the list UCB has stayed steady at No. 21 since 2007. UVA has waffled between the 23rd-, 24th- and 25th-place rankings.
The caliber of various undergraduate programs at U-M was also ranked. U-M's undergraduate business programs were rated 3rd in the nation. The university's undergraduate engineering programs were rated 6th.
Throughout the year, graduate schools are also ranked by U.S. News.
While U-M's Ross School of Business lost two spots on the U.S. News list of best ranked business schools, moving from 12th place last year to 14th place this year, U-M's education school moved up five spots on the list, ranking 9th this year, up from 14th last year.
U-M's Law School also went up on the list. It now ranks 7th, compared to the 9th place ranking its held since 2008. The school this year moved ahead of the law schools at University of California- Berkeley and the University of Pennsylvania.
The Medical School, however, didn't fare as well, slipping from 6th place last year to 10th this year.
The engineering school moved down from No. 8 last year to No. 9 this year.
The majority of U-M Graduate programs rated in the top ten are in health field. Here's a list of the top ten graduate programs at U-M in 2012, according U.S. News:
No. 1: Health care management
No. 2: Social Work
No. 3: Psychology, sociology
No. 4: Political science, public health
No. 5: Pharmacy, library and information studies
No. 6: Nursing
No. 7: Law, public affairs, history
No. 8: Math
No. 9: Engineering, education, Earth sciences
No. 10: Medical research, midwifery
Check out U-M's ranking here.
Kellie Woodhouse covers higher education for AnnArbor.com. Reach her at kelliewoodhouse@annarbor.com or 734-623-4602.