Posted on
Wed, Oct 3, 2012 : 5:58 a.m.
Shift to new model of serving Medicare patients comes as U-M Health System faces challenges
By Amy Biolchini
It may sound strange: A hospital that wants to keep patients out of its hospital.
For the University of Michigan Health System and hospitals across the country, it's a strategy that is becoming the way of the future.
Under the Patient Protection and Affordable Care Act of 2010, health systems are encouraged to cut back on their costs by forming accountable care organizations to ensure the continuity of services for Medicare patients between primary care doctors and specialists — thereby reducing re-admissions to hospitals.
UMHS has been a pioneer with its participation in two accountable care organizations, said Dr. Ora Pescovitz, executive vice president for medical affairs at U-M and CEO of UMHS, at a Medicare symposium hosted by the Medicare News Group Tuesday in Ann Arbor.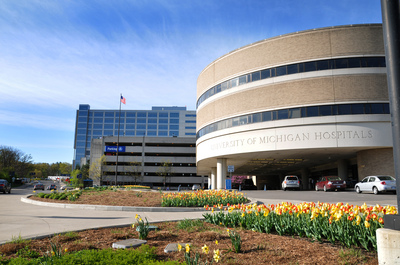 University of Michigan Health System photo
"We believe in the idea of putting ourselves out of business because frankly, I don't think we'll ever be out of business," she said.
Pescovitz acknowledged the future comes with risks — mostly related to changing funding sources. A potential "fiscal cliff" of a $100 to $200 million annual budget gap keeps Pescovitz up almost every night, she said.
The cliff is one Pescovitz said could be reached for several reasons.
"We are the sixth- to tenth-ranked medical school in the country, so we have a huge amount of (National Institutes of Health) funding. There's likely to be an 8 to 9 percent decrease in NIH funding if Congress doesn't do anything," Pescovitz said Tuesday. "So we're looking at a huge impact at our NIH budget, and about a 2 percent decrease in Medicare funding. And that's assuming nothing happens."
UMHS has an annual budget of about $3.1 billion. The Health System accounts for about half of the University of Michigan on several levels: Geographic footprint, number of employees and budget, Pescovitz said.
Administrators are unsure how things will financially shake out in the future.
"We are concerned about other things that may happen just in terms of general costs," Pescovitz said, citing other changes due to health care reforms the hospital will have to deal with.
"When we look at the Medicaid expansion … that will have both positive and negative impacts on us and we're not exactly sure how to balance all of that out. We currently take care of some uninsured patients, so some of those patients we will get paid for; on the other hand, we will see increasing numbers of Medicaid patients, and some of that will actually decrease our revenue as well."
Currently, about 46 percent of the patients treated by UMHS are on government-funded insurance programs — 32 percent are Medicare patients and 14 percent are Medicaid patients.
Early predictions for the 2012 fiscal year indicate about one-third of UMHS' patients are from Ann Arbor, one-third are from southeast Michigan and the rest are from Michigan and other states.
"We view ourselves as a resource for the state of Michigan — as a place for them to refer patients to," said Dr. Steve Bernstein, assistant dean for clinical affairs at U-M's Medical School. "If we don't have relationships with those organizations, those referrals are going to dry up."
UMHS recently announced it would be trading services and its brand name for a less than 10 percent stake in MidMichigan Health, a private, nonprofit health system that has four hospitals and covers 10 counties.
At the time of the announcement in August, Pescovitz said the agreement between the two health systems would cement the patient referrals from the middle of Michigan that currently exist.
The goal of accountable care organizations is to ensure a seamless stream of care for Medicare patients across doctor's offices, hospitals and long-term care facilities by offering incentives.
Coordinating care outside of the hospital has the potential to reduce hospital admission and readmission rates for Medicare patients with chronic conditions.
Medicare patients with multiple chronic conditions — about one in four Americans, and two out of three Americans over the age of 65 — often receive care from multiple doctors, and account for about 93 percent of Medicare fees for service expenditures, according to the Centers for Medicare and Medicaid Services.
Under the Affordable Care Act, a shared savings program will reward accountable care organizations that lower health care costs but meet performance standards based on quality of care.
Amy Biolchini covers Washtenaw County, health and environmental issues for AnnArbor.com. Reach her at (734) 623-2552, amybiolchini@annarbor.com or on Twitter.