The Detroit News:

U-M President Mary Sue Coleman urges lawmakers to end sequestration cuts

Posted on Wed, Mar 13, 2013 : 1:03 p.m.
University of Michigan President Mary Sue Coleman Wednesday urged lawmakers in Washington to reach an agreement to end federal cuts known as sequestration, The Detroit News reported.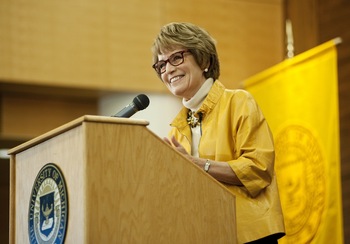 AnnArbor.com file photo
U-M
estimated last month
that the cuts, the result of the failure of Congress and the Obama administration to reach a broader deal to cut the federal deficit, could cost U-M $40 million in research funding.
Coleman was in Washington to speak at an alumni breakfast and while there held meetings with lawmakers, according to the report.
U-M head of research Stephen Forrest last month warned regents about the impact of the cuts on research.
"It is a meat cleaver-approach to solving budget problems," he said. "We don't know what the future's going to look like. It's certainly not going to be very robust."