Posted on
Fri, Jun 22, 2012 : 12:09 p.m.
U-M Board of Regents chair on Teresa Sullivan ouster at U-Va: It's their loss
By Kellie Woodhouse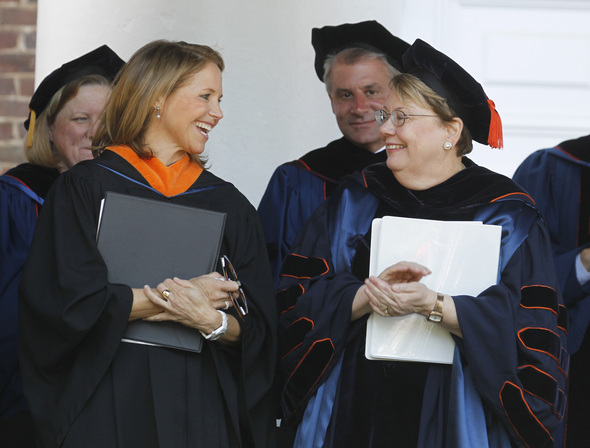 AP Photo
Although the governing board of
University of Virginia
was unsatisfied enough to oust college President
Teresa Sullivan
,
University of Michigan
leaders remember fondly their time working with the "talented educator" when she was provost here.
"It was very disappointing to read what had transpired," current U-M Board of Regents chair Denise Ilitch said in an interview with AnnArbor.com Thursday.
"She's a very talented educator and I think it's their loss."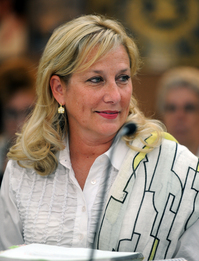 AnnArbor.com file photo
Ilitch began on the board in 2008 and worked with Sullivan until she left for U-Va in 2010 to become president of one of the nation's oldest public universities. At Sullivan's inaugural address at U-Va, U-M President
Mary Sue Coleman
gave the keynote address and a contingent of U-M officials traveled to attend.
Sullivan was ousted by a group from the school's Board of Visitors, led by rector Helen Dragas, about two weeks ago. Since then, there's been an outpouring of criticism directed at Dragas and the board. Top professors have resigned or threatened to leave the university, hundreds of students have protested the removal and donors have expressed frustration with the turmoil.
However, the board has agreed to vote Tuesday, June 26, on whether to reinstate Sullivan.
Sullivan has said she will stay on as president if Dragas is removed from the board, according to media reports.
"The University and its reputation have been damaged these past 13 days," wrote Carl Zeitham, the dean of the undergraduate business school that U-Va board tapped to be interim leader of the school after Sullivan's planned departure.
In a letter addressed to the university community and released Friday morning, Zeitham said he would refrain from considering his interim duties until the board makes its final decision on Sullivan.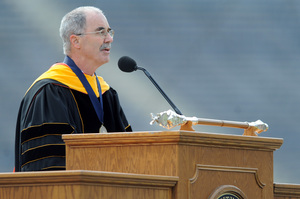 AnnArbor.com
Current U-M Provost Phil Hanlon, who succeeded Sullivan and worked with her during her four-year tenure as provost, called Sullivan a "very close friend" and "great mentor."
"I have deep respect for her knowledge of higher education, her intellect and her leadership skills," Hanlon said in a Thursday interview with AnnArbor.com.
He added: "I don't think I want to comment on the action that the Board of Visitors took except to wish her well in the future."
Dragas on Thursday evening released a statement defending Sullivan's ouster, which she played a key role in orchestrating.
"The bottom line is the days of incremental decision-making in higher education are over, or should be," Dragas said in the statement. "For some time, the Board of Visitors has been concerned about the following difficult challenges facing the University - most of which are not unique to UVA — and we concluded that their structural and long-term nature demanded a deliberate and strategic approach, not an incremental one."
Dragas' remarks referred to a statement Sullivan released earlier this week, in which she called herself an incrementalist.
"Sweeping action may be gratifying and may create the aura of strong leadership, but its unintended consequences may lead to costs that are too high to bear," Sullivan said in the statement. "There has been substantial change on Grounds in the past two years, and this change is laying the groundwork for greater change. But it has all been carefully planned and executed in collaboration with Vice Presidents and Deans and representatives of the faculty."
Kellie Woodhouse covers higher education for AnnArbor.com. Reach her at kelliewoodhouse@annarbor.com or 734-623-4602 and follow her on twitter.