Posted on
Mon, Nov 22, 2010 : 6:02 a.m.
University of Michigan student organizations back proposed Ann Arbor privacy ordinance
By Heather Lockwood
A University of Michigan student group's proposal for an ordinance restricting the use of police surveillance cameras in Ann Arbor is gaining support among the broader student population.
The Michigan Student Assembly passed a resolution in support of the proposed ordinance last week. And a day later, the U-M College Democrats followed suit, said William Leaf, leader of Students Against Surveillance.
"It's fantastic, the more people we get, the better chance we have of making it a law," said Leaf, a junior U-M history major. "People have said students don't care about privacy, but it's not true."
Cameras haven't yet been introduced or discussed in Ann Arbor, but group members say they're advocating for an ordinance after cameras have popped up in several other cities.
The proposed Ann Arbor Freedom From Surveillance Ordinance calls for a ban on police surveillance cameras in outdoor parks and residential areas, and would restrict the use of cameras to "high-crime" areas of the city, Leaf said.
"We're not trying to ban surveillance cameras — we're trying to restrict them in a fair and good way," he said.
John Oltean, Michigan Student Assembly external relations committee chairman and U-M political science and sociology senior, said he hopes MSA's involvement in the effort will strengthen its relationship with Ann Arbor City Council.
"Basically, I think it's important that MSA takes up some of these student concerns," Oltean said. "MSA has an important role to advocate on behalf of students to city officials."
Proposed ordinance
Download a copy of the proposed ordinance here.
Oltean said the proposed ordinance "places rational regulations on security cameras" and MSA does not want "expensive surveillance systems to replace real police work and street lighting."
Brendan Campbell, chair of the U-M College Democrats, said the ordinance is an "important" preemptive measure.
"First is, of course, the issue of privacy," he said. "But when you take the privacy issue and put it together with how ineffective (surveillance cameras) have proved to be in other cities — these cameras are extremely expensive; they are an invasion of privacy; and they don't work."
Leaf said his two main motivations for creating the group and writing the ordinance are to prevent potential government abuse of power and to protect "privacy for its own sake."
"Police shouldn't have total access to personal lives," he said.
The city of Ann Arbor doesn't currently have a police surveillance system in place. And Ann Arbor Police Lt. Angella Abrams said she has heard "nothing whatsoever" about the possibility of police surveillance cameras eventually being used in the city.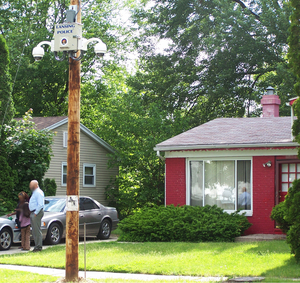 Photo courtesy of William Leaf
The Lansing Police Department currently uses 13 of what it calls public video surveillance cameras, said Lansing Police Chief Teresa Szymanski.
The cameras were installed from 2008 to 2009, and all but two are in residential areas, according to department spokesman Lt. Noel Garcia.
Garcia said having the surveillance cameras is an "officer safety issue." When a crime is committed in view of one of the cameras, police dispatchers are able to watch the incident in real-time and provide crucial information to officers responding to the incident, he said.
Rana Elmir, spokeswoman for the American Civil Liberties Union, said police surveillance systems are "ineffective, expensive and undermine our privacy."
"(The ACLU) opposes surveillance cameras, especially in residential areas," Elmir said. "There's a growing body of research ... which shows cameras' effect on crime is inconclusive and ineffective at best."
She said video surveillance systems, especially in residential areas, "chill innocent speech."
There's also the potential for abuse of such systems, Elmir said.
"Camera operators are human and, therefore, they make mistakes — the surveillance videos can be used for inappropriate purposes, whether voyeurism, stalking or harassing," she said.
Leaf said the next step for SAS is to continue to gather support from individuals and groups and to discuss the ordinance with City Council members individually.
Heather Lockwood is a reporter for AnnArbor.com. Reach her at heatherlockwood@annarbor.com or follow her on Twitter.