Posted on
Mon, Jun 10, 2013 : 5:58 a.m.
Unauthorized immigrant brothers prepare for future after Skyline High School: 'We're not afraid'
By Amy Biolchini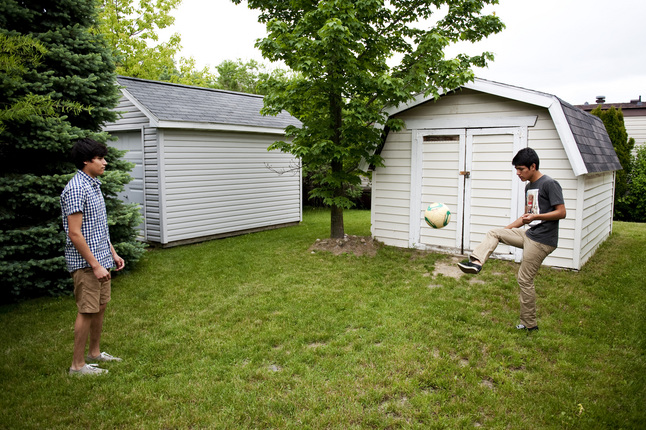 Daniel Brenner | AnnArbor.com
Jose
and
Javier Contreras
, two brothers from Mexico, will be graduating from
Skyline High School
Monday night in Ann Arbor with a two-year full-ride scholarship to
Washtenaw Community College
.
Beyond that good news lay few certainties. Their story illustrates what it's like to live in legal limbo amid a broader fight over federal immigration policy.
The brothers have been "out of the shadows" more or less since they began attending Ann Arbor Public Schools 13 years ago in kindergarten.
"We're not afraid to have people know we're undocumented," Javier says.
Jose, 19, and Javier, 18, say they don't want to face a future of minimum-wage jobs like the ones their parents work now.
Their aspirations are similar to those of any ambitious high school graduate: To attend a four-year university, get a degree and someday work at a company like Apple or Facebook.
Though the brothers have been accepted to a number of schools in Michigan — including U-M — and have received scholarship offers from some of them, they'd be facing international tuition rates because they're not U.S. citizens.
The barrier is one that has motivated the brothers to become activists for immigration reform and join the controversial tuition equality movement that's been pressuring the U-M Board of Regents to change its policy.
Jose and Javier know their future is in their hands now — and they won't stop working for it.
Their motivation
The brothers' story is punctuated with the staples of high school: prom, part-time jobs, driver licenses, cellphones and soccer games.
Underneath the surface, there's something else, too.
"Your friends are like, 'why are you trying so hard?'" Javier says, explaining he's been called a nerd for studying so much.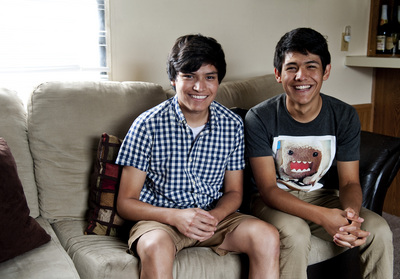 Daniel Brenner | AnnArbor.com
The brothers' good grades have meant they've been accepted to every university they've applied to.
Jose and Javier know the reason.
They see it every day when they go home: their parents.
Antonio and Irene have been working jobs at the minimum wage or lower in the U.S. for more than a decade — and it's unlikely that they'll have the possibility of anything higher-paying under the current system.
"We cannot complain — we have been able to pay for everything — and we're not getting any help out of the government," Antonio said. "We'll work our way through. We can deal with it. Why try to take advantage? That's not our policy."
Though Antonio and Irene have been able to keep the family in the same Scio Township mobile home for 11 years, the brothers know the kinds of jobs they could be stuck in.
"My parents do well in what they do, but we don't always want to be working in jobs like I do now," Javier says, explaining he works as a cashier at Plum Market. "I don't want to work washing dishes; I've worked those jobs."
Jose, who has been working since eighth grade, quit playing soccer midway through high school so he could clock more hours. He now works with a catering company.
The brothers both work to help pay the family's bills and to pay for the extra things they want to have — like cellphones.
Though their parents have instilled in them strong hard work ethic, it's not all about earning money.
It's about education, too.
"I told them — it's kind of my philosophy — it doesn't matter what the future is for them or for us over here in the United States," Antonio says. "Education and knowledge is something nobody can take away from you. It doesn't matter where you go."
'No money'
The landscape of rural central Mexico, where the family lived, isn't quite a desert, Antonio says, but it can quickly become one if there is no rain.
With no utility bills to pay and no running water, Antonio says he could scrape together just enough money to pay his rent every two months and feed himself as a single man.
Once he married Irene and the couple had Jose and Javier, Antonio says life became hard.
"It's like every other story," Antonio says, rubbing his first two fingers against his thumb. "No money."
In 1995, when Jose was 18 months old and Javier was 6 months old, Antonio walked across the border to "the other side" for the first time.
"We never say 'The United States of America,' we always say 'norte' or 'the other side,'" Antonio says.
He found jobs everywhere, mostly in restaurants.
"You come over here today, tomorrow you'll be working," Antonio says.
After traveling back to see his family several times, all four eventually crossed the border for the final time in 2001.
"They came with me and we never went back," Antonio says, shaking his head. "We never went back."
At 5 and 4 years old, Jose and Javier say they don't remember much about the rural village where they were born or the dark night of the border crossing.
"I remember some things being near the border; climbing on people's backs," Javier says, trailing off.
Jose continued Javier's thought: "The adults telling us to be quiet … the parents telling us 'Don't make any noise!'"
"There was a bunch of hiding and being in a car," Javier says. The family climbed into a car near the border and drove until they were in Michigan.
It's not nearly as easy now for families to go north from Mexico into the U.S., the Contreras' say.
"The politicians may say the borders aren't secure, but they are," Antonio says.
Growing up out of the shadows
Thirteen years ago, Antonio settled the family in Ann Arbor. Friends had told him there were jobs available every day of the year in Michigan — a cut above seasonal jobs in the farm fields of California.
"They just said Michigan, Michigan, Michigan," Antonio says.
The instability and uncertainty of the family's early years has changed dramatically. They've lived in the same modest mobile home for 11 years now, and Antonio and Irene have raised another son: Juan, now 11, who is a U.S. citizen.
Enrolled in the Ann Arbor Public Schools system since kindergarten, the brothers say that even though they've been open about their legal status from an early age, they've never felt like outsiders or been treated differently. They both have been active on school soccer teams — Javier played varsity his senior year.
But to the federal government, they're unauthorized immigrants, which meant Jose and Javier would have spent their teenage years without drivers licenses.
After being tangled in a lawsuit with the Michigan Secretary of State, the brothers won out and now have both temporary Social Security numbers, drivers licenses and work permits.
During their sophomore year in high school, an immigrant rights activist group found both Jose and Javier and began working with them.
Social Work Activists for Immigrant Rights was the brothers' first introduction to activism. They were matched with mentors who started helping them look towards colleges and scholarships.
Soon the brothers went looking for more; Community activism and organizing drew their attention, and they traveled to Washington D.C. twice for immigration reform rallies. Now, they speak to politicians to bend their ear and share their story.
Javier has also been active in the Tuition Equality movement, speaking before the U-M Board of Regents meetings to push them to change their policies for students in the country without legal permission.
"The last word we got from the President, Mary Sue Coleman, she said 'Don't go get arrested, guys. We're trying to support you; just give us time.'"
Dreams in limbo
As they applied to colleges, the brothers increasingly felt like a huge blank in the system.
Because they're not citizens, they can't fill out a FAFSA form for student loans or take out a loan from a private bank.
The citizenship process isn't an option, Javier says. Now that they're both 18 or older, Jose and Javier would have to leave the country for 10 years, and then return and apply.
"It's such a broken system — it's more worth it to wait and see than to try to get in to the so-called line, which is not really there," Javier says.
Antonio says some people view unauthorized immigrants as being at a huge disadvantage from other people, but that's not how he sees it. He tells his sons: "Listen, this is up to you."
Until they heard word from WCC this spring that they'd have a full ride scholarship for two years, Javier says both he and Jose were not optimistic about graduating from high school.
"Sometimes some huge event will happen — like back when the DREAM act didn't pass — and I was just like, what am I doing still?" Javier says. "But it'll happen for a second, and then it'll pass, and it's just like no, you've got to keep trying."
Though Antonio says he tries to tell his sons that it doesn't matter what college they go to, Javier knows his dream: U-M.
"There's times when you do get down, but you can't sit there dwelling on what's going come after this," Javier says. "You can't think too far in the future. Baby steps."
Amy Biolchini covers Washtenaw County, health and environmental issues for AnnArbor.com. Reach her at (734) 623-2552, amybiolchini@annarbor.com or on Twitter.