Posted on
Sat, Jul 14, 2012 : 5:57 a.m.
Unclear if Library Lane underground parking garage will open in time for Art Fair
By Amy Biolchini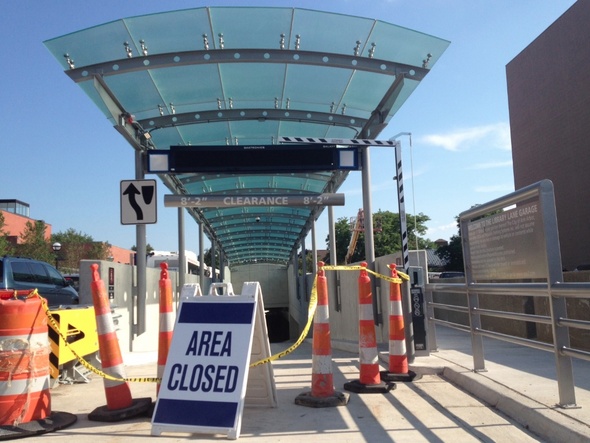 Ryan J. Stanton | AnnArbor.com
Delays due to final inspections have put the new $50 million Library Lane underground parking garage in jeopardy of not being open in time for the 53rd Ann Arbor Art Fair next week.
Though Ann Arbor Downtown Development Authority officials celebrated the grand opening of the structure Thursday, the garage has yet to open to the public for parking.
Susan Pollay, executive director of the DDA, said Friday afternoon that there is a possibility the garage may not be open in time for the Art Fair.
"We're very glad that it is constructed, if not for this year for future years," Pollay said.
Ryan J. Stanton | AnnArbor.com
Among other last-minute work being done on the project, an elevator inspection has yet to be completed and is scheduled for July 17, the day before hundreds of thousands of people will flock to downtown Ann Arbor.
Should the garage clear all of its inspections, the first day the garage could open would be the first day of the Art Fair on July 18, Pollay said.
The structure has 711 spaces in four levels below ground, and additional 52 spaces above ground. It will cost $1.10 an hour to park in it.
Amy Biolchini covers Washtenaw County, health and environmental issues for AnnArbor.com. Reach her at (734) 623-2552, amybiolchini@annarbor.com or on Twitter.