Posted on
Sun, Jul 8, 2012 : 11:02 a.m.
Underground cable source of central Ann Arbor power outage; 2,000 remain powerless in Washtenaw County
By Sven Gustafson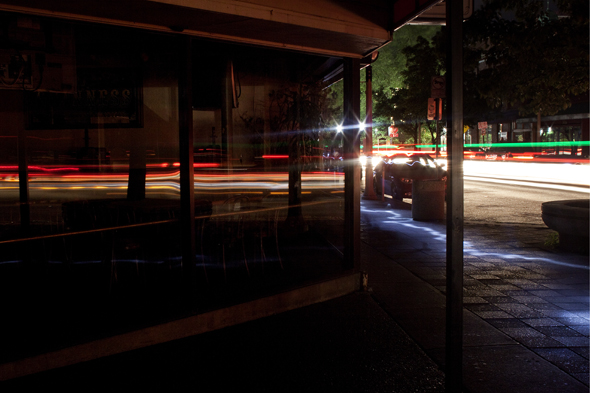 Jeffrey Smith | AnnArbor.com
Some businesses along the southern edge of the University of Michigan's central campus had power restored and were open Sunday morning, though DTE Energy said an outage continues to affect around 400 homes and businesses in the area.
The outage initially started around 9 p.m. Saturday and affected customers between South State and South Forest streets from South University to Packard. The utility on Sunday said it didn't know when power will be fully restored in the area.
"We have an underground cable problem there," DTE spokesman Len Singer said. "We have a crew working on it, but they haven't pinpointed what the problem is."
Crews were inspecting electrical conduits and merge points where a number of different cables come together, Singer said.
"It's a bit more tedious than it is to pinpoint an overhead problem, where it's much more visible," he said.
Power appears to have been restored to at least some businesses along South University.
"We're open, the power's on, it came back on about one o'clock in the morning," said Alexis Cook, a barista at Espresso Royale on the corner of South U. and East University.
Cook said the outage mostly affected closing routines for the popular coffee shop.
"I know I came in this morning and there were bags of ice in the freezer for backup," she said.
Cook said it appeared as though businesses along South University were open and had power. An employee at nearby Amer's Delicatessen, on Church Street, said power had also been restored and that the eatery was open.
Sunny Bhagat, owner of the Blue Front party store at 701 Packard Street, said his store lost power around 8 p.m. Saturday and had to close down. While power came back on around 1 a.m., he said he lost considerable revenue from the outage.
"We do much business in the nighttime," Bhagat said.
About 2,000 customers remained without power across Washtenaw County, Singer said, following a series of storms that hit the region beginning Tuesday and continued on the Fourth of July holiday and Thursday.
DTE's outage map for the region showed a large swath of customers affected along the U.S.-23 and Carpenter Road corridor south of I-94.
Matt Dean, an assistant manager for the Circle K gas station on West Michigan Avenue, just east of U.S.-23, said many customers who live in the area tell him they remain without power. The station had to close for a few hours Thursday when it lost power following a storm but was open Sunday.
"We probably lost quite a bit (of money), just because we're always busy," Dean said.
About 25,000 customers across Southeast Michigan remained without power Sunday, down from 340,000, Singer said.
Contact freelancer Sven Gustafson at sventg123(at)gmail(dot)com, or follow him on Twitter.