Posted on
Sun, Jan 20, 2013 : 5:58 a.m.
Union training events to stay in Ann Arbor this year; future placement under consideration after right-to-work's passage
By Amy Biolchini
Michigan's passage of right-to-work legislation will be a point of discussion for union organizations that hold their annual training events in Ann Arbor after 2013, according to official representatives.
At a recent Washtenaw County Board of Commissioners meeting, local leaders discussed concerns that the lucrative union training events that visit Ann Arbor each year may be in jeopardy of moving to more union-friendly locales after the Michigan legislature passed controversial right-to-work laws in December.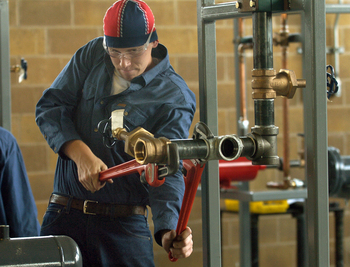 Lon Horwedel | Ann Arbor.com file photo
Union officials have confirmed that the
Ironworkers
,
United Association of Journeymen and Apprentices of the Plumbing and Pipe Fitting Industry
(UA), and the
National Joint Apprenticeship and Training Committee
(NJATC) of the International Brotherhood of Electrical Workers and the National Electrical Contractors Association will keep their training events in Ann Arbor this year.
"We have made this decision in spite of the recent very disappointing action of the Michigan legislature and Governor approving so-called 'right to work' legislation," said Rick Terven, executive vice president of the UA, in an emailed statement.
"We are aware of the painful irony that our conference, which is largely paid for by union dues, will significantly and positively impact the economy of Michigan at a time when the public policy in Michigan is to restrict (the union's) financial ability to accomplish such worthy goals in the future."
David Kolbe, legislative and political director for the Ironworkers, said the union was "extremely disappointed in the short-sightedness of the governor" in passing right-to-work legislation, but has no plans to move its annual training event from Washtenaw Community College after 2013.
However, plans for future siting for the other union events in Ann Arbor are not concrete.
"Personally, it was disappointing to see Michigan take that action — particularly a state with such a well-grounded tradition," said Michael Callanan, executive director of the NJATC for the Electrical Construction and Maintenance Industry of the IBEW and NECA.
Local unions
UA Local 190

About 1,500 members in Washtenaw County
Building trades contract (encompassing 750 to 800 workers) expires June 1, 2014
Gas distribution contract for state of Michigan expires April 2016
Gas distribution contract for the state of Ohio expires Sept. 2015

IBEW Local 252

About 800 members in Washtenaw and Jackson counties, as well as the southernmost townships of Ingham and Livingston counties
Commercial contract expires in 2.5 years
Residential contract expires in 1 year
Voice data and video contract up for negotiation this spring

Ironworkers Local 25

Covers 34 counties in Michigan's Lower Peninsula, including Washtenaw County
The national union conventions bring about $12 million into the county's economy every year and account for 22,000 hotel nights, according to the
Ann Arbor Area Convention and Visitors Bureau.
The passage of the right-to-work legislation will not impact the NJATC's events this year, which the unions already have scheduled and signed contracts for, Callanan said.
"I'm certain it will be a topic for discussion," Callanan said of right-to-work legislation. "We'll have to see what the response is there."
Mary Kerr, president and CEO of the Ann Arbor Area Convention and Visitors Bureau, said her office has contacted the directors of all the union training programs since the passage of the right-to-work legislation.
"We continue to reach out to them to ensure that we're continuing to provide the best level of service, and that we look forward to welcoming them back here in the future," Kerr said. "We love having (the union events) here. We work with them year-round on these events. We look forward to welcoming them back."
Kerr said her office helps to connect the union training programs with businesses in the community to facilitate the events.
"We want to ensure they have the best experience … in the community," Kerr said.
The UA has used Great Lakes Regional Training Center at Washtenaw Community College for more than 20 years to train 350,000 workers who travel from across the country to Ann Arbor each year for the event.
The UA will be celebrating its 60th anniversary of its training program this year.
"We have had a long, constructive and mutually respectful relationship with the greater Ann Arbor community and Washtenaw Community College, a connection which we would like to preserve," said Terven in a statement. "Whether the labor policies of the State of Michigan will allow us to continue this tradition is a question which we will periodically re-evaluate."
Kevin Groeb, business manager for UA Local 190, said the fate of the annual union conventions in Ann Arbor is out of the hands of the local offices. How the unions themselves will handle operations after right-to-work legislation takes effect in March is unknown, Groeb said.
Callanan said planning talks for the NJATC's 2014 training events will begin right after this year's event ends.
The NJATC has located its annual training event in Ann Arbor at the University of Michigan for the past three years.
"No doubt it's disappointing," Callanan said of the passage of right-to-work in Michigan. "Whether it will play a significant role in the future of the institute (in Ann Arbor), it's too soon to tell."
Amy Biolchini covers Washtenaw County, health and environmental issues for AnnArbor.com. Reach her at (734) 623-2552, amybiolchini@annarbor.com or on Twitter.