Posted on
Fri, Jun 21, 2013 : 5:59 a.m.
University of Michigan looks to out-of-state students to subsidize low in-state tuition increase
By Kellie Woodhouse
University of Michigan has adopted its lowest in-state tuition increase in three decades — and it's doing so in part by putting an additional cost burden on out-of-state students.
During a public meeting Thursday afternoon, the school's eight-member governing board in a 6-2 vote approved a 1.1 percent increase for underclassmen residents, bringing the in-state rate to $13,142, and a 3.2 percent increase for out-of-staters, bringing the non-resident rate to $40,392 for freshmen and sophomores.
"The people of Michigan have made an investment in the university over a long period of time and I think that creates an equity that makes it fairer to do what we can to make in-state tuition go up at a slower rate than out-of-state," U-M regent Larry Dietch said in an interview. "And the data would indicate, at least at this point, that there is elasticity in terms of the demand from out-of-state and the ability of people to pay."
Melanie Maxwell | AnnArbor.com
The increases follow a 2.8 percent increase for students in state and a 3.5 percent increase for out-of-state students last year. U-M's resident tuition has grown 60.2 percent over the past decade. Its non-resident tuition has increased 55.2 percent.
Even prior to the increase, U-M was one of the most expensive public colleges for out-of-state students. U-M has the second-most expensive sticker price of any public university in Michigan for resident students.
University officials say it's U-M's onus to keep tuition affordable for in-state students whose families' tax payments partially fund the university. U-M will receive $279.1 million next year in state aid. They point to the fact that out-of-state applications are climbing each year and say there are plenty of competitive students who are willing to pay the price for education at the Ann Arbor school.
"Our out-of-state tuition is higher than most publics'," U-M Provost Martha Pollack said during a media briefing on Thursday. Pollack said the school has seen "an explosion" of applications from non-resident students in recent years.
Jennifer Delaney, a higher education funding expert at the University of Illinois, said more and more elite flagship state colleges are taking a similar route.
"The political battles are around in-state students and in-state tuition and one way that institutions can get around that is to raise rates for out-of-state students," she said. "Out-of-state students supposedly don't have that same subsidy. There isn't a political body that protects the out-of-state students."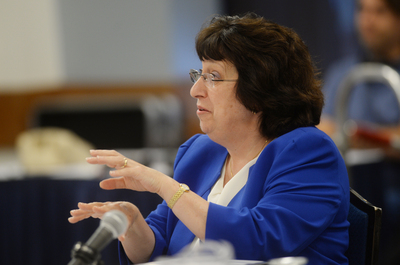 The board agreed to grow the school's general fund to $1.72 billion, up 4.6 percent from last year. The growth is possible because of the increase in tuition, cost recovery methods that will save $23.7 million next year and an increase in out-of-state enrollment.
The number of non-resident undergraduates at the school —who pay $27,250 more in tuition than Michigan residents— is anticipated to increase by 0.5 percent in fiscal 2014, according to U-M Provost Martha Pollack. She said the school anticipates that in the fall 60.9 percent of undergraduates will be Michigan residents.
U-M enrolled 42.6 percent of its 2012-13 freshman class from out of state - the largest percentage in recent history. School officials say the growth is due to demographic trends in Michigan — state high schools are producing fewer graduates — and not because of a cash grab for more tuition dollars.
How U-M's does FY 2014 tuition compare to peers?
In-state rates
University of Virginia: $12,458, up 3.8%
University of North Carolina: $8,340, up 10.3%
University of Texas - Austin: $8,878, frozen
Ohio State University: $10,037, frozen
University of Maryland: $9,161, up 3%
Out-of-state rates
University of Virginia: $39,844, up 4.8%
University of North Carolina: ip $29,905, 6.1 %
University of Texas - Austin: $16,211, up 2.1%
Ohio State University: $25,757, up 2%
University of Maryland: $28,347, up 4%
Regent Mark Bernstein, who was elected to the board in November, said that the model of leveraging out-of-state tuition to keep in-state rates low is a sustainable one.
"[U-M is] using the pricing power that Michigan families and taxpayers have created to increase tuition modestly on out-of-state students while still maintaining the competitiveness and pricing power of this university," he said "Even with this relatively modest out-of-state tuition increase, the university remains a good deal for out-of-state students. ... I hope this is a model we embrace in the future."
If the university does embrace the model, then regents and school officials say U-M also needs to increase aid to low and middle-income families from out-of-state. U-M put $161.2 million of its fiscal 2013-14 general fund toward centrally awarded aid. The school currently meets the demonstrated need — through a combination of grants, loans and scholarships — of all in-state students whose families earn $120,000 or less. For out-of-staters, U-M meets the full need of students from families that earn $40,000 or less (about 400 students).
Most U-M students from out-of-state are wealthy, although the university didn't provide income figures for out-of-state students Thursday. U-M estimates that about 48.7 percent of in-state families make more than $150,000 or do not apply for federal loans.
"We struggle with socioeconomic diversity mightily," Bernstein said. "We're making some progress with Michigan students.... With out-of-state students we have a lot of work to do."
Not all regents agree that the university can viably shift the cost burden of tuition increases to out-of-state students year after year.
"That's been the trend where in order to address these problems, and what I would call an unsustainable model that we have to change in some way, some universities are passing the cost on to the out-of-state student," said Denise Ilitch, a U-M regent who voted against the proposed tuition increases. "But I think that model, over time, is unsustainable as well."
Kellie Woodhouse covers higher education for AnnArbor.com. Reach her at kelliewoodhouse@annarbor.com or 734-623-4602 and follow her on twitter.