Posted on
Fri, Sep 23, 2011 : 9:55 a.m.
University of Michigan adds recycling bins to the Diag
By Kellie Woodhouse
The University of Michigan has installed 6 recycling bins on the Diag in an effort to reduce waste on campus.
The move comes just days before U-M President Mary Sue Coleman will announce a set of new sustainability goals for the campus that U-M says will "alter" the face of campus.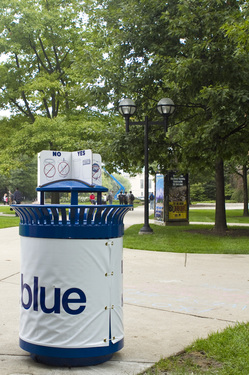 Courtesy of the University of Michigan Photo Services
The new
Planet Blue
bins were installed Wednesday.
Trash output at the university has increased significantly over the past few years, according to a recent report by a group of U-M faculty, staff and students,
In 2004, the university paid for the disposal of 13,800 tons of waste. By 2009, that number had grown to 17,400 tons, according to the Campus Sustainability Integrated Assessment.
During that same time, recycling increased by just 4 percent, the report states.
U-M plant operations recycled about 32 percent of waste in fiscal year 2011, up from 30 percent in 2010, according to a fiscal 2011 recycling report from the university. The average rate of recycling in school buildings was 30.5 percent, the report said.
To date, U-M has focused heavily on indoor recycling because past outdoor recycling efforts have not been successful.
"Historically it's been a little bit of a challenge when we put recycling bins outside to make sure that they're used just for recyclables," said Andy Berki, manager of U-M's Office of Campus Sustainability. "In the past, they would often get contaminated with regular trash."
Berki hopes that this time around, things will go differently.
"People are just more environmentally conscious then they have been in the past so they make a greater concerted effort to separate waste form recyclable materials," Berki said. "So we're giving it another shot."
Berki said it's also helpful that Ann Arbor's Materials Recovery Facility moved to single-steam recycling last year.
With the single-stream program, the university is allowed up to 9 percent contamination of recyclables. If contamination levels exceed 9 percent, the entire contents of the load are considered trash.
If the 6 recycling bins on the Diag are successful, Berki said the university will add the bins to other outdoor areas of campus.
Kellie Woodhouse covers higher education for AnnArbor.com. Reach her at kelliewoodhouse@annarbor.com or 734-623-4602 and follow her on twitter.