Posted on
Mon, Nov 26, 2012 : 2:59 p.m.
Top 5: Michigan athletic director Dave Brandon on winning, embracing change and good advice
By Kellie Woodhouse
University of Michigan athletic director Dave Brandon loves to win and he's not afraid of change.
That's what the pizza company CEO-turned-athletic director told a crowd of roughly 300 private and public sector leaders at a Washtenaw Economic Club luncheon Monday.
During his three years on the job, Brandon has overhauled the athletic department, introduced night games and throwback jerseys, spearheaded dozens of multimillion-dollar construction projects, fired a football coach, hired a football coach and challenged the department's resistance to change.
In short, he has reshaped a department steeped in history and tradition.
Here's five highlights from Brandon's Monday talk.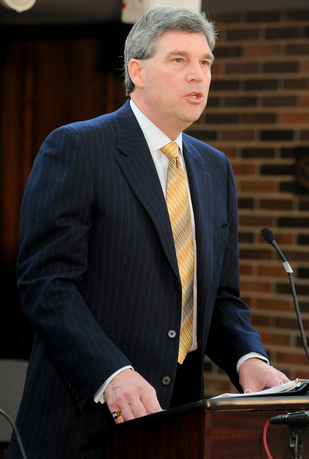 1) Dave Brandon loves to win.
"I love to win. Whether it's selling more Pringles than Frito-Lay, whether it's selling more pizzas than Papa John's," Brandon told the crowd Monday. "There's nothing better than winning. Nothing better."
Brandon paused, and then added:
"That's why Saturday was a miserable day for me."
2) Brandon surrounds himself with leaders not afraid to think outside the box
When Brandon assumed the reins of the athletic department in winter 2010, one of his first priorities was to establish a leadership team of people who were prepared to challenge the status quo.
"If I'm good at anything, I am good at surrounding myself with incredibly talented people. I do know how to build great teams," Brandon said.
Of the 275 people who worked at the department when Brandon entered it, 78 either left voluntarily or were fired.
Brandon eliminated some positions, reorganized departments and created dozens of new jobs, including expanding the marketing department from a group of three to a team of more than a dozen people. Today, there are 308 employees within the department.
"We had 78 people transition out (but)... you can talk about even more about people who were promoted, who received new opportunities," Brandon said. "I love to put in people who are waiting for their chance. You should never underestimate the power of people who have something to prove."
What was the criteria for promotion? No. 1: A willingness to mix things up.
"If you're one of those people who just wants tomorrow to be like yesterday was because that's easy… then you're either going to drive me crazy or I am going to drive you crazy."
3) "Change is what it's all about."
The thread woven through Brandon's talk Monday was the importance of change. To drive home his point, Brandon quoted storied Michigan football coach Bo Schembechler.
"You'll either get better or you're going to get worse. You don't have the opportunity to stay the same," Brandon recalled Schembechler saying.
Brandon says one of the keys to his professional success was in being unconventional and confronting new markets and conditions head on, instead of being forced into change.
Brandon has made bold moves one of the hallmarks of his career. For example, in his first full academic year as Michigan's athletic director he fired the football coach and planned the football team's first-ever night game. As CEO of Domino's he mocked rival SUBWAY and "oven baked" a cease-and-decist order on a television commercial (the order was regarding Domino's oven-baked sandwiches).
"If you're not prepared for more change —more rapid change, more challenging change— then you're going to get left behind," Brandon said.
Brandon said that when he became Domino's chief executive in 1999 it took the company 18 months to identify a need and then roll out a new product. Now, it takes three months, he said.
"Be nimble. React to change with speed," he said.
4) Overhauling Michigan's athletic department was not easy, but it was essential.
In addition to hiring more than 100 new faces, Brandon has reorganized departments, rebranded the athletic department and introduced a host of new traditions (including night games, legacy jerseys and featuring student athletes from non-revenue sports during halftime).
He's overseen a $500 million construction surge for revenue sports and helped plan a $250 million construction plan for non-revenue sports, such as soccer and softball.
Brandon commissioned a culture survey of the athletic department in spring 2010 that rated the organization poorly in almost every aspect, including vision, involvement and adaptability. The survey illustrated that athletic department employees, as a whole, were resistant to change.
"When I looked at this I immediately went out and got a drink," Brandon said. "It felt to me like we could be losing to our key rival opponents, our revenues could be (stagnant)... but if all else fails we sing the fight song and we feel better."
After Brandon overhauled the department, he commissioned another culture study in fall 2011. This time the organization was ranked in the top quadrant among all categories.
"In every instance the lowest scores on the survey were higher than the highest scores from the previous year," Brandon recalled. "We changed a lot... some of it is really simple change and some if it is really bold change."
5) Brandon shares the best leadership advice he ever received.
"Find out how people want to be treated and then treat them that way," Brandon recalls his father telling him when he was promoted to his first leadership position at Proctor & Gamble. He was in charge of sales in five states and led a team of 11 people, many of whom were older and more experienced than he was.
A photo caption has been corrected in this article. Kellie Woodhouse covers higher education for AnnArbor.com. Reach her at kelliewoodhouse@annarbor.com or 734-623-4602 and follow her on twitter.