Posted on
Mon, Dec 10, 2012 : 1:05 p.m.
University of Michigan to pay $1.5M for Blimpy Burger property and nearby building
By Kellie Woodhouse
Related article: Owner: Blimpy Burger must move as University of Michigan buys building
The University of Michigan is buying the property that houses Krazy Jim's Blimpy Burger for $1.075 million, according to an internal U-M memo.
The agenda item for a U-M Board of Regents meeting confirms what a local business owner told AnnArbor.com last week— the iconic Blimpy Burger must find a new location if it is to remain open.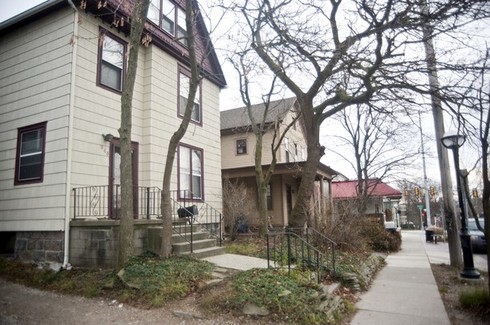 Joseph Tobianski | AnnArbor.com
The U-M memo said the Blimpy Burger property —which sits at the corner of South Division and Madison streets at Packard and includes a 776-square-foot apartment house and the 950-square-foot restaurant— has "no known historical significance."
The deal was brokered between U-M and building owner Patricia Shafer, the widow of Blimpy Burger's original founder, Jim Shafer.
An adjacent 2,434-square-foot building, at 545 S. Division St., also is owned by Shafer and being purchased by the university for $425,000.
Shafer will receive a total of $1.5 million for the two properties, which sit on a combined 0.27 acres of land. According to city records, the properties have an assessed value of $540,900, making the estimated market value about double that.
The Board of Regents will decide whether to approve the purchase of the 551 S. Division St. property, which has housed Blimpy Burger for nearly 60 years, and the 545 parcel during their monthly meeting on Dec. 13.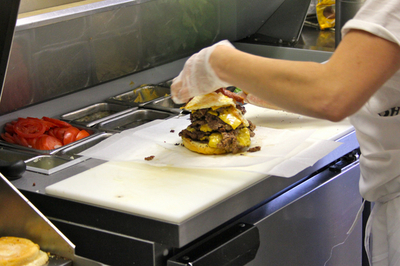 Once a purchase price has been determined, it is common practice for the board to approve the purchase.
According to the memo, signed by the school's chief financial officer Timothy Slottow, U-M intends to finalize the two purchases "no later than December 31." The memo says that leases within the two buildings will be honored through August 31, 2013. After that date, "the premises will be vacated."
Blimpy Burger owner Rich Magner says he intends to find a new location for the restaurant.
"We will be trying to put a deal together," said Magner, adding that he hasn't begun looking for a new location. He said he wants to remain downtown near U-M's campus.
"There's no way I could counter the [university's] offer," Magner added.
Blimpy Burger, which usually is crowded at lunchtime and after sporting events, serves small burgers that customers can customize with extra meat and a range of toppings.
It has received national attention as one of the best burger joints in America via the Travel Channel, and it also was featured on Man V. Food.
Ann Arbor native Daniel Lord, 45, created the "Save Blimpy Burger" page on Friday after hearing the eatery will be moving after nearly 60 years on South Division Street. The page had more than 1,200 likes as of Monday afternoon.
Future U-M development?
The two properties are strategically located at the edge of U-M's central campus, between the school's existing West Quadrangle dormitory and Perry Building.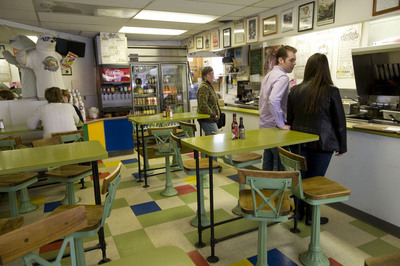 The university owns a large parking lot adjacent to Blimpy Burger's building.
It currently is building a $29 million addition to its Institute for Social Research, just a block north of the site. The nearby 1,180-bed dormitory South Quadrangle will undergo a $60 million renovation starting in May.
The university has declined to comment on the purchases —U-M officials typically don't elaborate on major purchases until they are officially approved regents— and it is unclear whether pending purchases also are in the works for the four other buildings on the block as well as two adjacent buildings on East Madison Street.
"We wouldn't talk about future plans that haven't been approved by the Board of Regents." U-M spokesperson Rick Fitzgerald said, adding: "We wouldn't talk about potential property purchases."
Two of the buildings on South Division Street are owned by David Copi and managed by Copi Properties. Copi's son, Sam Copi, said at this point his father still owns the two buildings on South Division Street and has not entered into an agreement to sell to the university.
The four other buildings on the block, two on South Division and two on East Madison Street, are owned by South Division Street Properties LLC, a corporation registered to former University of Michigan athletics director William C. Martin. Those four properties are managed by Arch Realty.
AnnArbor.com reporters Ben Freed and Lizzy Alfs contributed to this report.
Kellie Woodhouse covers higher education for AnnArbor.com. Reach her at kelliewoodhouse@annarbor.com or 734-623-4602 and follow her on twitter.