University of Michigan considered among top 20 colleges in the world in London-based ranking
Posted on Thu, Oct 4, 2012 : 8:53 a.m.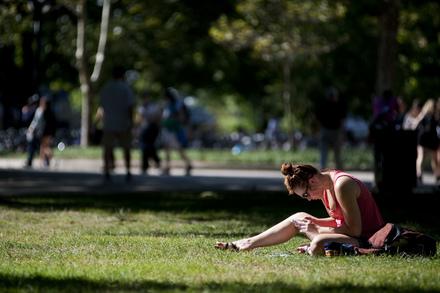 University of Michigan was dubbed the 20th-best university in the world in the recently released Times Higher Education rankings.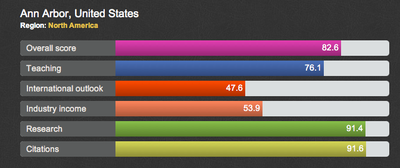 Times Higher Education
The Ann Arbor-based school has slipped down the
World University Rankings
in recent years
, ranking 18th in 2011 and 15th in 2010.
Yet Times Higher Education continues to consider U-M one of the best schools in the world. According to the magazine, the Times list of top 200 universities comprises roughly 1 percent of all higher education institutions in the world.
The London-based magazine chose the California Institute of Technology, the University of Oxford in England, Stanford University and Harvard University to top the 2012-13 list.
Fellow American public schools the University of California at Berkeley and at Los Angeles topped U-M in the rankings, reaching 9th and 13th respectively.
The listing ranks schools in 5 categories. Teaching, research and citations each make up 30 percent of the ranking. Industry income makes up 2.5 percent and international outlook constitutes 7.5 percent.
The ranking gave U-M an overall score of 82.6, compared to U-M's 82.8 score last year.
Earlier this year, U-M was ranked 12th in the organization's annual Reputation Rankings, which are based on results from an invitation-only survey of scholars from around the world.
In September, the 2012-13 QS World University Rankings rated U-M as the top American public university, ranking it above the California public institutions. The QS rankings placed the school 17th globally, down from 14th last year and 15th in 2010.
Meanwhile, U.S. News and World Report in September ranked U-M No. 29 nationally for undergraduate education in 2013, down a spot from last year. U.S. News ranked the Ann Arbor campus fourth among public universities, behind University of California's Berkeley and Los Angeles campuses and the University of Virginia.