Posted on
Thu, Feb 7, 2013 : 10:47 a.m.
University of Michigan head of research warns Congress against $60B cuts in research funding
By Kellie Woodhouse
University of Michigan's head of research Stephen Forrest is warning Congress against following through on a policy that would drastically reduce federally funded research.
The policy, known as sequestration, is set to go into effect on March 1 and cut federal research funding by $12 billion in 2013 and nearly $60 billion through 2017, according to an estimate by the American Association for the Advancement of Science.
If it goes into effect, sequestration would affect far more than research. Sequestration - a series of automatic U.S. spending cuts - is designed to reduce the mounting federal deficit by cutting defense and domestic discretionary spending by $1.2 trillion.
As part of a deal to avoid the fiscal cliff, Congress pushed sequestration's start date to March 1. It was originally set to begin January, along with the fiscal cliff. Lawmakers in Washington, D.C., are now locked into a debate about whether to avoid sequestration and how.
U-M is heavily dependent on federal research funding. The federal government awarded U-M $825 million in research funds in fiscal 2011-12, amounting to nearly 67 percent of the school's overall $1.24 billion research budget that year. NIH alone contributed $571 million and the NSF contributed $72 million.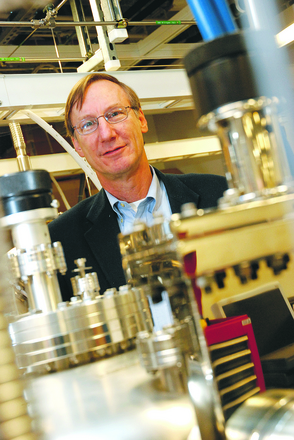 File photo | AnnArbor.com
The cutbacks would make federal funding more difficult to receive.
For example, U-M predicts that success rates for U-M grant applications to the National Science Foundation would decrease from 22 percent to 16 percent and for the National Institutes of Health would decrease from 19 percent to 14 percent.
"If Congress cannot find a way to avoid sequestration, the resulting deep, across-the-board cuts in federal support for this innovative research would do permanent damage to our nation's ability to compete," Forrest said in a widely released video.
Forrest asserted that the U.S. will fall behind other countries investing in research. The fallout of the cuts, he said, would not only mean slower growth in research and innovation, but could also have a negative impact on our economy. In a Tuesday briefing, President Obama said sequestration has "already started to affect business decisions."
"We live in a global economy with a growing number of strong international competitors. If we pull back now from investing in our future, we will lose ground that will be difficult if not impossible to retain," Forrest said in the video. "It would be a mistake to try to save our way out of these difficult economic times."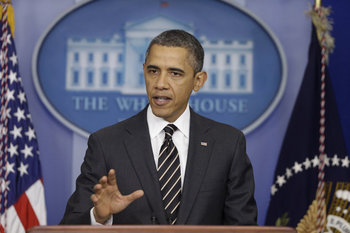 AP photo
Lawmakers are currently in discussions about delaying sequestration again.
"These are decisions that will have real and lasting impacts on the strength of our recovery," Obama said during a Tuesday briefing, calling for a mix of spending cuts and tax reform to replace sequestration. "While it's critical for us to cut wasteful spending, we can't just cut our way to prosperity."
Rep. John Boehner, Speaker of the House of Representatives and a Ohio Republican, has likened the sequester to "taking a meat ax to our government."
In an Oct. 2012 interview, Forrest said U-M was having difficulty preparing for the cuts.
"It would be quite devastating for the entire nation. It would probably send us into a depression if it really came about," Forrest said. "It's very difficult to plan for such deep and sort of broad cuts. It's a rather blunt knife to put to us."
Kellie Woodhouse covers higher education for AnnArbor.com. Reach her at kelliewoodhouse@annarbor.com or 734-623-4602 and follow her on twitter.