Posted on
Mon, Aug 26, 2013 : 5:59 a.m.
University of Michigan ditches trays in most dining halls
By Kellie Woodhouse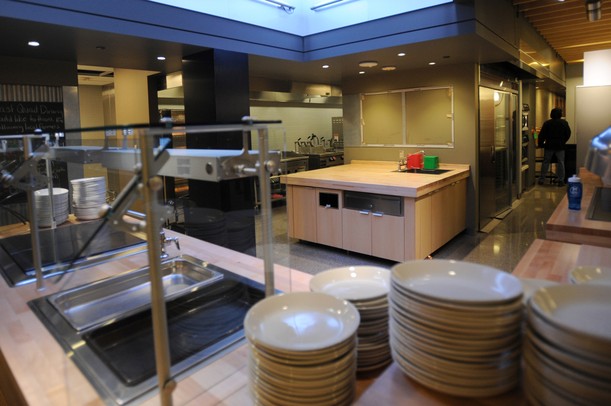 Melanie Maxwell | AnnArbor.com
After two years of dipping its toe in the water, University of Michigan is going headfirst into the realm of trayless dining.
Starting this fall semester, the school's Ann Arbor campus is getting rid of the trays students use to haul their food from serving areas to seating areas. Eliminating trays, officials say, will reduce waste by making it inconvenient for students to plate large amounts of food and by eliminating the water and energy used to wash the trays after use.
"With a tray, students are more inclined to take more food than they might actually consume," said Christine Siegel, associate director of University Housing. "What we hope to find is that students will be more thoughtful about their choices" if they don't use trays.
Of the eight operational U-M dining halls (South Quad is closed due to renovations), seven will go trayless when students move in at the end of August. U-M is considering upgrading the conveyor belt used for dirty dishes in the Bursley Dining Hall on North Campus and making it trayless as well. With the existing facility, dishes could get caught in the conveyer belt.
U-M this year has a capacity to seat roughly 2,775 in its dining halls at once. Bursley can seat 629 diners.
The school predicts going trayless will facilitate a 5 percent cost savings due to less food consumption, meaning university housing could save $400,000.
A study on trayless dining conducted by an American University professor in 2012 surveyed 360 diners over a six-day period and found a 32 percent reduction and food waste and 27 percent reduction in dish use when trays were unavailable.
The school piloted trayless dining in its Betsy Barbour and Oxford dining halls in 2011 and 2012 and agreed in 2011 to make all renovated dining halls trayless. The school has since expanded its efforts and decided to introduce trayless dining at all dining halls where it was logistically possible, including the newly renovated East Quad dining hall.
"We felt that we might as well apply this wherever we can, wherever it's feasible," said University Housing communications director Peter Logan. "Whether they were renovated or not."
U-M is not alone. In fact, it's kind of late to the game. Hundreds of schools across the nation have eliminated trays in their dining halls, including local schools like Eastern Michigan University. Schools began switching as early as the mid-2000s.
"We've been concerned about the impact on the student experience. We were making a judgement about whether the inconvenience to students was worth it," Siegel said.
Although a group of environmentally-minded students pushed for U-M to toss its trays, a number of students surveyed did express concern over the inconvenience of not having a carrying mechanism for food in the dining halls. During recent new student orientation, some students filled out comment cards asking a straightforward question: "Where are the trays?"
University Housing, however, is waiting for students to return to campus and try out the new dining method before gauging feedback. According to Logan, the school purposefully waited until the beginning of a new school year to implement the change, instead of breaking up routine mid-year.
So, what happened to all the old trays?
U-M hasn't gotten rid of them yet.
"We're going to store them for a while until we make sure we're not going to back out of this," Siegel said.
Kellie Woodhouse covers higher education for AnnArbor.com. Reach her at kelliewoodhouse@annarbor.com or 734-623-4602 and follow her on twitter.