Posted on
Thu, Jul 18, 2013 : 5 p.m.
University of Michigan approves in-state tuition for military, unauthorized immigrants
By Kellie Woodhouse
Unauthorized immigrants schooled in Michigan and all military and honorably discharged veterans will now receive in-state tuition rates at the University of Michigan.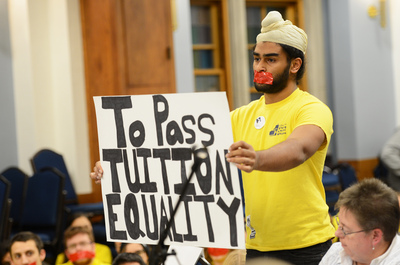 Melanie Maxwell | AnnArbor.com file photo
The Board of Regents voted 6-2 to approve the change to its residency guidelines during a 3 p.m. public meeting Thursday at the North Campus Research Complex.
The vote was along party lines, with the board's Democrats voting in favor of the measure and Republicans voting against it.
The approval means affected students pay $27,250 less in tuition. In the fall Michigan residents will pay $13,142 a year, while non-residents will pay $40,392. Under current tuition levels, the difference amounts to $109,000 over the course of four years.
Regent Andrew Richner, a Republican, said he has concerns about the legality of the policy and voted against it. Meanwhile, regent Mark Bernstein, a Democrat, praised the change, saying that as a public university U-M should embrace immigrant students.
"This university has always been a place with profoundly important public mission," Bernstein said, adding that a century ago his family would have been considered unauthorized. "A new generation comes to us with the same exact hopes and dreams."
Andrea Fischer Newman, a Republican from Ann Arbor, was supportive of offering in-state rates to veterans, but not unauthorized immigrants.
"This is a matter best left to the federal government. I'm concerned about whether this is appropriate under federal law and believe this type of national issue should be resolved at the federal level," she said.
The changes were recommended by top U-M administrators after a year-long consideration of U-M's residency requirements.
Sixteen states have provisions for unauthorized immigrants who grew up in the state to attend state colleges at the reduced rate. Fourteen states provide the allowance through legislation. In Michigan, however, the state's three research universities are constitutionally autonomous and residency requirements are set by school's governing boards.
Under existing practices, unauthorized immigrants who grew up in Michigan pay the out-of-state rate to attend the state's flagship university. Under new guidelines, students who attended Michigan middle school and high school will have the ability to pay in-state rates as long as they matriculate to the Ann Arbor school within 28 months of graduating high school.
The university's residency requirements have been criticized as making it difficult for veterans from Michigan to receive the in-state rate if they were stationed overseas for a long period of time. The proposed changes will ensure all active military and honorably discharged veterans, regardless of their home state, will receive the in-state rate.
"Over the past 10 years our country has asked a lot of its veterans," said Joshua Simister, a U-M student and leader of the school's Student Veterans of America chapter. "We've been frustrated over the past 10 years that we have not had full access to in-state tuition."
Simister said U-M's prior guidelines were "a little bit ludicrous."
"Of all the hurdles [returning veterans] face, removing one hurdle ... changes the life of that veteran." he said.
Hundreds of students have been advocating for tuition equality for about two years, protesting outside the Michigan Union and staging sit-ins at university governance meetings.
"They consider themselves Wolverines, because they grew up in Michigan," Jose Contreras told regents Thursday, speaking of his two sons who attended elementary, middle and high school in Ann Arbor. His son Javier has been vocal at regents meetings over the past year, petitioning regents to change their residency policies. "They were like 4- or 5-years-old when they grew up here. They have so many friends. They are not considered Mexicans."
Regent Julia Darlow said the student activism compelled the Board of Regents to look at an issue many hadn't considered previously. She said students "worked for so long and so effectively to bring this proposal before us."
The changes represent the first comprehensive residency guideline revisions since 2005. The changes would take effect in January 2014.
In each of the past two years, students have filed about 2,000 applications for resident classification on all three U-M campuses. According to U-M figures, nearly 80 percent of those were granted in-state tuition.
Kellie Woodhouse covers higher education for AnnArbor.com. Reach her at kelliewoodhouse@annarbor.com or 734-623-4602 and follow her on twitter.