Posted on
Tue, Mar 12, 2013 : 5:51 p.m.
University of Michigan graduate schools maintain top rankings
By Kellie Woodhouse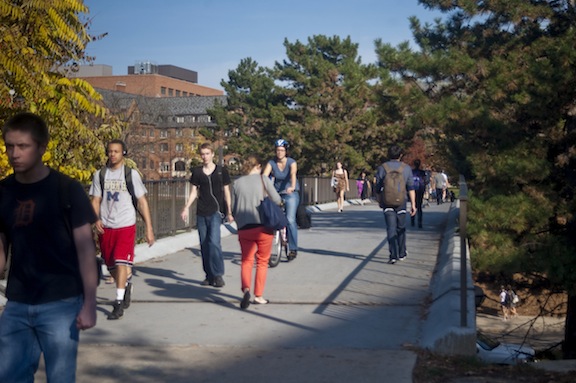 Joseph Tobianski | AnnArbor.com file photo
University of Michigan programs stayed near the top of U.S. News & World Report's annual ranking of graduate schools.
The medical, law and education schools each rose in the rankings, while the business and engineering schools each slipped a spot.
U.S. News released its 2014 edition of "Best Graduate Schools" Tuesday.
College of Engineering: 2014: 9th, 2013: 8th, 2012: 9th
Stephen M. Ross School of Business: 2014: 14th, 2013: 13th, 2012: 14th
Medical School research: 2014: 8th, 2013: 10th, 2012: 10th
Medical School primary care: 2014: 8th, 2013: 8th, 2012: 20th
Law School: 2014: 9th, 2013: 10th, 2012: 7th
School of Education: 2014:11th, 2013: 12th, 2012: 14th
In the fall, U.S. News ranked U-M 29th nationally for undergraduate education.
U.S. News uses admissions selectivity and expert opinions on program quality, and in some cases job-placement statistics and graduates' salary, to determine the rankings.
U.S. News dubbed Yale University as the top law school. The 2014 edition ranked Harvard University as the top medical school for research and the University of North Carolina at Chapel Hill as the best medical school for primary care. Massachusetts Institute of Technology is ranked as having the best engineering program and Vanderbilt is ranked as having the best education program. Harvard and Stanford universities are tied as having the best business school.
While teaching a class on the university budget in the fall, U-M Provost Philip Hanlon said that while prospective students and alums pay attention to rankings, the school does not evaluate its success based on its performance in various rankings.
U.S. News also revisited programs it hadn't ranked since 2009.
Economics: 13th
English: 13th
History: 7th
Political Science: 4th
Psychology: 4th
Sociology: 4th
Library and Information Studies: 4th
It also ranked online programs for the first time, placing U-M's online engineering program 5th.
Correction: The original article incorrectly listed the medical school as the top ranked U-M graduate school.
Kellie Woodhouse covers higher education for AnnArbor.com. Reach her at kelliewoodhouse@annarbor.com or 734-623-4602 and follow her on twitter.