Posted on
Mon, Mar 1, 2010 : 8:50 p.m.
University of Michigan disaster relief volunteers: Military, Haitians 'true heroes'
By Juliana Keeping
When the call for volunteers arrived in his inbox following Haiti's devastating earthquake Jan. 12, former Navy hospital corpsman Patrick Nalepa said the decision to help was instant.
"I would go again tomorrow," said Nalepa, now a pediatric surgery nurse with the C.S. Mott Children's and Women's Hospital.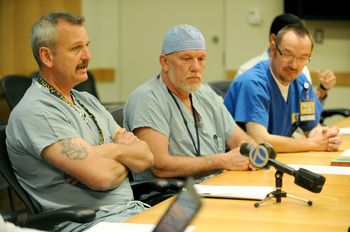 Angela J. Cesere | AnnArbor.com
Nalepa is among the 10-person University of Michigan Health System team that just returned from a two-week trip, providing support aboard the U.S. Naval Ship Comfort. 
Today, the volunteers described conditions aboard the ship and the resilience of the Haitian people. They downplayed their efforts and instead expressed gratitude at being able to support Navy medical personnel aboard the Comfort, a full hospital service ship that docked in Port-au-Prince shortly after the disaster.
"They are the true heroes," said Kevin Dombrowski, a pediatric surgery nurse. "We were there to give them a break."
One of the Navy surgeons relieved by members of the U-M team had performed 100 surgeries in four days on two hours of sleep, said Aasim Padela, an emergency room doctor for adults and children. It was hard to convince them to take a break.
While the ship logged about 800 surgeries in the month following the earthquake, it was impossible to say how many patients the U-M team treated. The influx of those in need of care had ebbed by the time they arrived, several days after departing Ann Arbor on Feb. 14, they said. 
But there were plenty of patients to be seen, including those whose crush wounds had been untreated for weeks.
"Many of the wounds weren't healing," said Keenan Stonebraker, a nurse and paramedic. "In one amputation we had heard about, they had taken off a patient's arm, only to find out there were so many maggots in the arm they had to cut it off again. Double and triple amputations were commonplace."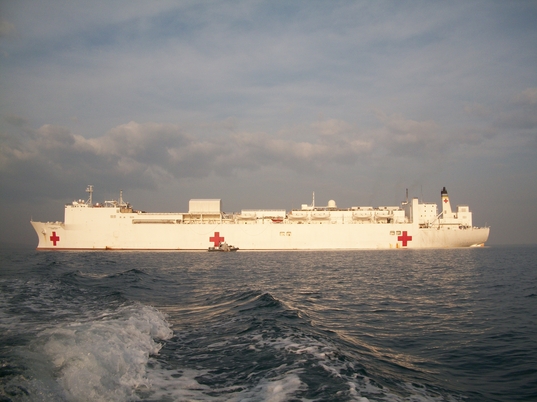 Photo courtesy of the University of Michigan Health System
Doctors would try to save a limb whenever possible, using translators to ease fears of terrified Haitians.
"These people had seen hundreds of people with crude field amputations, gangrenous amputations, and many of them were terrified that the surgeons were taking them into the operating room to take their leg," said Marie Lozon, a pediatric emergency medicine physician who acted as medical director for the team.
Other patients treated by the team were injured in the chaos following the quake, including an 11-year-old who had been shot for stealing a bike.
"The tragedy there does not end," Stonebraker said.
Despite horrific injuries and grinding poverty still faced by thousands of citizens in the poorest country in the Western Hemisphere, what stuck with the volunteers were the smiles of the Haitian people and their gratitude.
"They were always smiling, always appreciative," Dombrowski said. "Even though there was a language barrier, you could just tell."
Other health system relief efforts to Haiti have included a Survival Flight trip, during which personnel brought two Haitian citizens to the U-M Medical Center for treatment. And donations have been made to World Medical Relief, a nonprofit based in Detroit that distributes medical supplies to areas of need. 
Various health system doctors have assisted outside groups in the relief effort.
Juliana Keeping covers higher education for AnnArbor.com. Reach her at julianakeeping@annarbor.com or 734-623-2528. Follow Juliana Keeping on Twitter