Posted on
Tue, Nov 27, 2012 : 7:54 a.m.
$1.28B: University of Michigan top U.S. public college in research spending
By Kellie Woodhouse
University of Michigan has topped its public peers in research and development spending for the third year in a row, according to the U.S. National Science Foundation.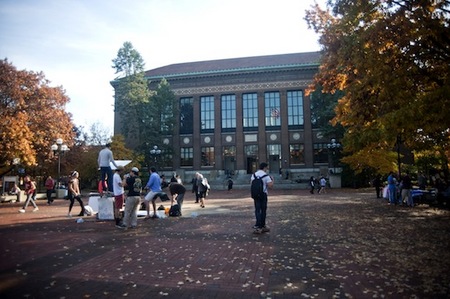 AnnArbor.com photo | Joseph Tobianski
The Ann Arbor school spent $1.28 billion on research during the 2010-11 fiscal year, up 8 percent from the previous year, according to the NSF.
Because NSF and U-M use different accounting standards, their tallies for research spending vary slightly. U-M reported a $1.24 billion research enterprise in 2011- lower than that reported by the NSF.
The university, home to roughly 43,400 graduate and undergraduate students, ranked second among all universities in research spending, with Johns Hopkins University in Maryland ranked first.
University of Washington at Seattle, the University of Wisconsin at Madison and Duke University ranked third, fourth and fifth on the NSF list, respectively.
The bulk of U-M research is federally funded, with U.S. government sources funding 64.1 percent of U-M's research enterprise during fiscal 2011. A large part of that share —$113 million— came from the 2009 stimulus package.
In September, U-M announced that it spent a record $1.27 billion in fiscal year 2012, which ended June 30. NSF's fiscal year 2012 total for U-M will be included in the agency's next annual report on R&D spending.
U-M first broke the $1 billion mark during fiscal 2009, when research funding totaled $1.016 billion, a 12 percent increase from $929 million in fiscal 2008.
"One (factor) obviously is just scale," U-M Vice President for Research Stephen Forrest told AnnArbor.com in October, speaking of why U-M continues to outperform its peers in research spending.
"But in some cases, like NIH, we're really hitting above our weight class. We're unusually good at interdisciplinary research where something like a system has to emerge from the research," Forrest continued.
"The recent example of the automobile safety pilot: There's very few universities that can conceive of wiring 3,000 automobiles to interact with each other, to get the town on board so that we can put up microwave stations and gather information through the town's Internet backbone. That's a big systems-level project."
Kellie Woodhouse covers higher education for AnnArbor.com. Reach her at kelliewoodhouse@annarbor.com or 734-623-4602 and follow her on twitter.