Posted on
Tue, Nov 27, 2012 : 8:50 a.m.
University of Michigan Health System mum on review process of Dr. Sidney Gilman
By Amy Biolchini
Editor's note: This story was updated at 5:45 p.m. with a link to an emailed message from Ora Pescovitz.
The University of Michigan Health System remains quiet on its review process of Dr. Sidney Gilman, a neurology professor who is accused of leaking information that lead to a massive insider trading deal.
"We are not going to describe the review process while it is ongoing," according to an emailed statement Monday from Pete Barkey, director of public relations for UMHS.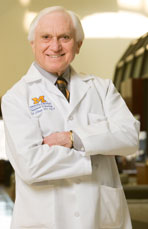 Courtesy U-M
Gilman, 80, of Ann Arbor, is
a full employee with U-M's Medical School
, Barkey confirmed Monday afternoon. He's listed in a
U-M pay database
as earning $258,019.00 in 2011-12.
Wednesday, the University of Michigan announced it would be carefully reviewing Gilman's involvement with the insider trading scheme.
During the weekend, an email was sent to all UMHS employees on behalf of Ora Pescovitz, executive vice president for medical affairs, UMHS CEO Douglas Strong and James Woolliscroft, dean of the Medical School, reminding employees to follow industry and hospital ethical standards with regards to releasing information.
The U.S. Securities and Exchange Commission has accused Gilman of providing nonpublic information regarding the outcome of a clinical trial of an Alzheimer's drug that he was overseeing in advance of its official announcement in July 2008 to Mathew Martoma, a former portfolio manager with CR Intrinsic Investors LLC.
Martoma, 38, of Boca Raton, Fla., is being criminally prosecuted for allegedly using the information to trade stocks in advance of the study's public release.
Monday, Martoma was released from jail on a $5 million bail after his arrest last week on charges that between 2006 and 2008, he helped to engineer one of the largest insider trading frauds in history, the Associated Press reported.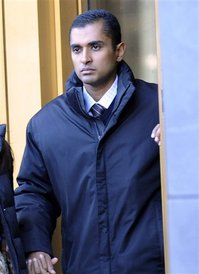 Louis Lanzano | AP Photo
Gilman has entered into a non-prosecution agreement with the SEC under the direction of his lawyer,
Marc Mukasey
. He has also agreed to pay $234,000 in disgorgement and prejudgment interest, and agreed to a permanent injunction against further violations of the federal securities act.
Gilman moonlighted as a $1,000 per hour medical consultant with a New York-based expert network firm that arranged phone calls between Gilman and Martoma, according to the SEC's complaint.
During the time that Gilman served as chairman of the safety monitoring committee overseeing Elan Corporation and Wyeth's Phase II trial of a new Alzheimer's drug, he allegedly spoke with Martoma immediately after the committee's meetings and gave his opinion on the study's findings.
Gilman allegedly received more than $100,000 for his consulting appointments with Martoma and others at hedge fund advisory firms, according to the SEC complaint.
Gilman tipped Martoma off to the negative results of the trial two weeks before they were made public, which resulted in the sale of more than $960 million in Elan and Wyeth securities in about a week, according to the SEC complaint.
The deal enabled more than $276 million to be made illegally for Martoma's fund and for the funds of others that Martoma allegedly shared the information with, the Associated Press reported.
When the study's findings were publicly announced in July 2008, Elan and Wyeth's shares declined by double-digits, according to the SEC.
Gilman has been a consultant to a number of major pharmaceutical companies, including to Elan and Wyeth from 2003 until 2009.
Amy Biolchini covers Washtenaw County, health and environmental issues for AnnArbor.com. Reach her at (734) 623-2552, amybiolchini@annarbor.com or on Twitter.