Posted on
Mon, May 20, 2013 : 10 a.m.
University of Michigan hosting conference on role of liberal arts at research universities
By Kellie Woodhouse
The University of Michigan is hosting a three-day conference on the future of liberal arts at research colleges.
The conference takes place from May 22 to 24 at the Rackham Graduate School building.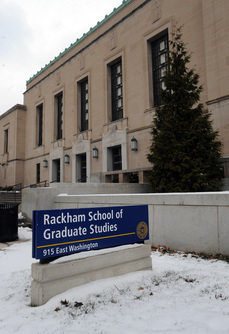 Melanie Maxwell | AnnArbor.com
U-M is a fitting place to host such a conference since it had a $1.27 billion research budget in fiscal 2012, yet it also has a growing art school and top-rated musical theater program. The school is used to balancing its research endeavors with more traditional liberal arts studies.
The conference will include a panel discussion of leaders in higher education, including former graduate school dean Earl Lewis, on the status of liberal arts education at research universities on May 22 at 7 p.m. The next day, also at 7 p.m., U-M President Mary Sue Coleman, former President James Duderstadt and University of Virginia President Teresa Sullivan will conduct a panel discussion on a similar topic.
"Today, the national conversation about higher education centers around crisis, failure, fraud and pressure for research universities to expand training in entrepreneurship and applied learning," Terrence McDonald, dean of U-M's College of Literature, Science, and the Arts, said in a statement. "This conference will provide a forum for educational leaders to discuss the value, contributions and future of the liberal arts."
College leaders of Yale University, University of California at Berkley, Northwestern University, University of Minnesota and Purdue University also will speak during the conference.
Kellie Woodhouse covers higher education for AnnArbor.com. Reach her at kelliewoodhouse@annarbor.com or 734-623-4602 and follow her on twitter.