Posted on
Fri, Oct 19, 2012 : 3:51 p.m.
University of Michigan launches new security and police division in response to six-month child porn reporting delay
By Kellie Woodhouse
Public safety and security at University of Michigan is getting an immediate makeover.
U-M regents unanimously approved the creation of a Division of Public Safety and Security during their Friday meeting in Flint.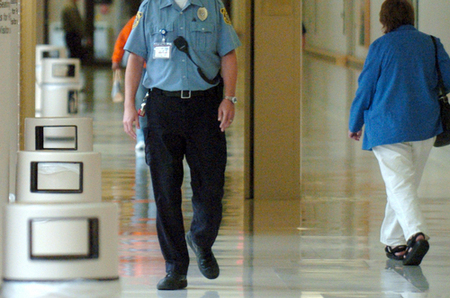 The new division is a response to an external investigation of a six-month reporting lapse by at least eight university officials who knew a U-M Health System resident was suspected of viewing child pornography while at work but did not notify police.
Investigators interviewed 37 people and found serious lapses of communication between hospital security officials and university police. U-M regent Laurence B. Deitch said Friday that the communication line "demands repair."
The new division will be temporarily headed by Joe Piersante, the current interim U-M police chief. The division will have authority over U-M's security and police operations.
"There was a clear failure among university personnel to timely and effectively communicate regarding the reported possession of child pornography," Deitch said Friday, echoing statements made in February by regents when they ordered the review. "This failure is categorically unacceptable."
Officials also announced that the school will develop a standard practice guide related to safety and security reporting procedures. A search committee for a DPSS director is also being formed.
"This has been a very arduous process, very time consuming," U-M President Mary Sue Coleman said Friday. "But it was critical that we go through it.
We've followed a challenging road to reach this point, but I see a clear path forward."
The investigation's findings stem from May 2011, when a female resident discovered evidence that linked 37-year-old pediatric resident Stephen Jenson to child pornography. The employee attempted to use a computer in an employee area of University Hospital and discovered an illicit picture on the screen. The picture was attached to a thumb drive belonging to Jenson.
The employee reported the image to her supervisor and eventually multiple hospital lawyers were informed of the discovery. The lawyers did not report the incident to police.
Instead, university police weren't informed of the incident until six months later, on Nov. 18. They launched an investigation three days later and on Dec. 16 Jenson was arrested and discharged from U-M.
During the six-month lapse, Jenson had regular contact with minors through his duties as a health system pediatrician-in-training.
An investigation by the U.S. Department of Education into the reporting lapse is still underway, a DOE official told AnnArbor.com.
Latham and Watkins Chicago-based trial lawyer Zachary Fardon began the external investigation in April and officials at first predicted it would take six weeks to finish. Instead it took the university six months to released the review's findings to the public and cost the university $487,000, $92,000 more than the $395,000 cap set by the original contract with the firm, according to documents obtained by AnnArbor.com through a Freedom of Information Act request. Lawyers on Fardon's team billed up to $750 an hour.
The external review was the first ordered by regents since Ed Martin was accused of bribing Wolverine basketball players in the 1990s.
Regents demanded the outside investigation on Feb. 16, with regent S. Martin Taylor calling the reporting lapse unacceptable and saying "we must make sure we do everything in our power to make sure it's not repeated."
Regents did not share the actual Latham and Watkins review, but instead issued a public memo summarizing the findings.
"That document was done under attorney-client privilege," said U-M spokesperson Rick Fitzgerald.
The external review follows an internal one released Feb. 10. That review found similar missteps by the university. U-M auditors found that eight U-M employees, including a health system lawyer, knew that Jenson possibly had viewed child pornography while working at the hospital but did not report the incident to police.
The investigation found that a lead hospital attorney intimidated the female resident who originally reported the incident, causing her to cry in a meeting.
Deitch said Friday that the attorney determined "there was not sufficient evidence" to tell police and that such a conclusion was "was wrong and unacceptable."
Auditors also said unclear roles and poor communication between hospital security and university police contributed to the reporting delay.
Meanwhile, Jenson is facing federal charges for receiving and possessing child pornography. In December authorities allegedly found 97 images and four videos of child pornography on his computer. Jenson struck a plea deal with prosecutors in September, but a U.S. District Court judge refused to accept the deal and both sides continue to negotiate on a plea.
Kellie Woodhouse covers higher education for AnnArbor.com. Reach her at kelliewoodhouse@annarbor.com or 734-623-4602 and follow her on twitter.