Posted on
Fri, Apr 6, 2012 : 9:16 a.m.
External probe of University of Michigan child porn reporting delay underway
By Kellie Woodhouse
An external review of a six-month lapse in the reporting of child pornography found in an employee area of a University of Michigan hospital is underway.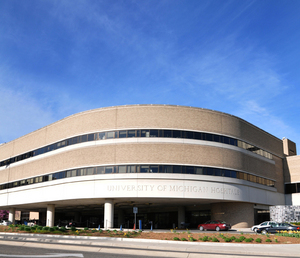 University of Michigan Health System photo
The school has selected the international law firm Latham & Watkins to lead the external review, it announced Friday morning. U-M and the firm have agreed that the review will not exceed $395,000.
"(The cost) actually will depend on how much time it will take them to do the work and develop the report," said head of U-M public affairs Kelly Cunningham. "It just depends in how fast it goes."
The head attorney on the case, Chicago-based trial lawyer Zachary T. Fardon, has prior experience with internal investigations, government reviews, business litigation and white collar defense.
U-M has charged Latham & Watkins with investigating circumstances leading to the reporting lapse that allowed 37-year-old Stephen Jenson to work with children for an additional six months after a medical resident discovered a thumb drive with documents containing his name and child pornography.
"The review will consist of an independent investigation of the facts; advice to the university on its internal controls and procedures; and assisting the university with any corrective actions," the Friday announcement states.
Added Cunningham: "There's not a firm deadline for their completion but they are going to be working as fast as possible."
Although the resident reported the incident to her supervisor and hospital security in May 2011 and at least eight people knew of the discovery by early June, the U-M Department of Public Safety wasn't informed of the discovery until mid-November.
Jenson has since been charged federally with multiple counts of possessing child pornography.
After the reporting lapse came to light, U-M President Mary Sue Coleman ordered an internal review of the lapse. The review, released in February, found that the head lawyer involved in the case acted incorrectly and that there were no clear reporting lines between hospital security and university police, who are often confused as one in the same by patients and staff.
The U-M Board of Regents on Feb. 16 unanimously ordered an external review of the case.
"It's a terrible situation. It's one that is unacceptable to the regents," Regent S. Martin Taylor said of the lapse in February. "We must do everything in our power to make sure it's not repeated."
The U.S. Department of Education is also conducting a review of the reporting lapse.
As a part of its internal review, U-M committed to hiring a firm to assess the unclear roles of hospital security and university police and the communication difficulties between the two entities.
On Friday U-M also announced that they've chosen Margolis Healy & Associates, a consulting firm specializing in higher education and hospital security, to conduct that assessment. The firm will also perform a study comparing U-M's campus security operations to those of peer institutions.
Margolis Healy & Associates has proposed a $105,000 price tag for its assessment, which will begin next week, said Cunningham. That review is expected to take roughly six weeks.
Retired university auditor Fred White Jr. will serve as a liaison for U-M and the outside firms.
U-M last conducted an external review of similar magnitude in 1997, when the university sought an external review of bribery and improper conduct between booster Ed Martin and Wolverine basketball players. That scandal stretched on for six years and eventually led to severe NCAA sanctions and a federal indictment.
In that case, the university hired law firm Bond, Schoeneck and King to investigate the slew of accusations against the basketball program. It took the firm seven months to issue a 250-page report detailing the scandal, the circumstances leading to it and personnel that abetted the breach. Less than a week after the report was issued, U-M fired then-basketball coach Steve Fisher.
U-M said it is asking Latham & Watkins to suggest corrective measures as a part of its review; however the lead attorney on the case, Susan Kay Balkema, no longer works for the university.
Kellie Woodhouse covers higher education for AnnArbor.com. Reach her at kelliewoodhouse@annarbor.com or 734-623-4602 and follow her on twitter.