Posted on
Mon, Mar 12, 2012 : 2:47 p.m.
University of Michigan launches new sustainability fellowship with $10M gift from Dow Chemical
By Kellie Woodhouse
Six months after launching a $14 million campus sustainability initiative, the University of Michigan will begin a sustainability fellowship program aimed at researching and promoting sustainability not only in Ann Arbor, but throughout the world.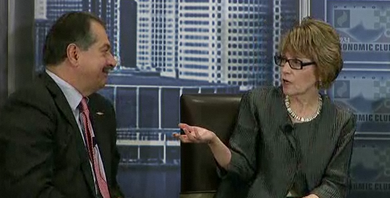 The
Dow Sustainability Fellows Program
is funded in part by a $10 million gift from
Dow Chemical Company
.
U-M plans to bring 300 sustainability scholars —masters and doctoral students with specialized knowledge ranging from chemistry to public policy to economics to law— to U-M over the next six years through the fellowship program.
"They will be inspired to work together as they would in the real world to develop concrete solutions, actionable solutions to how we can all live cleaner ... and greener," said Dow Chemical CEO Andrew Liveris. "It's an imperative that we reduce our carbon emissions and that we reduce our footprint."
Coleman and Liveris introduced the new fellowship at a Detroit Economic Club luncheon Monday.
Coleman said the new fellowship won't be rooted in any one center or school at the university, but will be as "broad and comprehensive as sustainability itself."
The fellows will study sustainability as it relates to energy, climate change, water, food, housing, transportation and health.
The university recently hired more than 30 faculty who specialize in sustainability. U-M has an additional 670 faculty with some level of expertise in sustainability. More than 330 U-M alumni work for Dow Chemical.
"If you believe that one person can make a difference, consider what three hundred people can do," Coleman said. "That's a seismic shift."
The program includes one- and two-year fellowships for master's, doctoral and postdoctoral students and a supporting lecture series focused on sharing sustainability research and best practices.
Sustainability fellowships currently exist at Harvard University, the National Science Foundation, the International Alliance of Research Universities and Carnegie Mellon University.
Monday's announcement follows a $14 million sustainability initiative Coleman unveiled in September. That money will go toward reducing runoff on campus, making buildings more energy efficient and purchasing hybrid vehicles, among other initiatives.
Kellie Woodhouse covers higher education for AnnArbor.com. Reach her at kelliewoodhouse@annarbor.com or 734-623-4602 and follow her on twitter.