Posted on
Sun, May 12, 2013 : 6 p.m.
University of Michigan leader Mary Sue Coleman 6th-highest-paid public university president in U.S.
By Kellie Woodhouse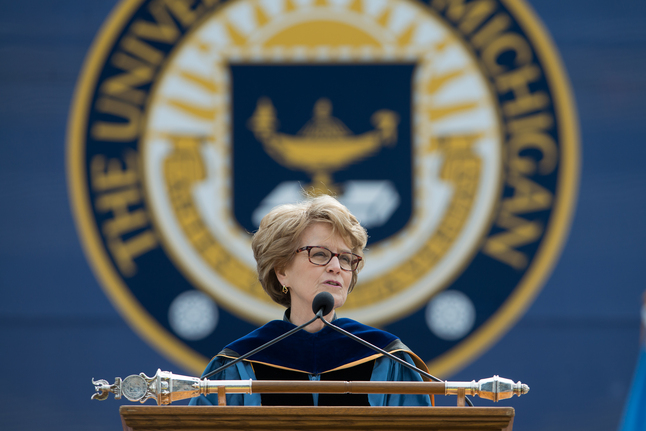 Courtney Sacco | AnnArbor.com
University of Michigan President Mary Sue Coleman earns a total compensation of $918,783 a year, the sixth-highest pay of a public university leader in the U.S.
The Chronicle of Higher Education reported Coleman's compensation as part of an examination of presidential pay at public universities in fiscal 2011-12.
Coleman is the highest paid university president in Michigan.
She received base pay of $586,000, deferred compensation of $175,000, retirement benefits of $58,000 and a $100,000 bonus. She also receives the free use of a house and car.
In September 2012, Coleman received a 3 percent raise, bringing her base salary to $603,400. She donated her initial raise of $17,600 to scholarships, but will receive the base increase next year. Coleman is set to retire in July 2014.
When offering Coleman a raise in September, former Regent S. Martin Taylor, speaking on behalf of U-M's governing board, defended Coleman's salary.
"We've looked at all the publications, the benchmarking, what's being done, best practices et cetera. ... The base salary of the president is certainly not out of line in terms of being too high," he said. "If anything it is too low."
AnnArbor.com obtained Coleman's compensation and benefits package in 2011 through a Freedom of Information Act Request and found that she earned $933,000. Coleman's full compensation package is paid out of U-M's general fund, which is comprised mainly from tuition dollars and state funding.
The highest paid public university president in fiscal 2012 was Graham B. Spanier, the former leader of Penn State University. Spainer earned base pay of $351,000 that year, but received $1.25 million in deferred compensation after he was forced out of his position due to the Jerry Sandusky sex abuse scandal that roiled Pennsylvania's flagship public university that year, according to the Chronicle.
Michigan State University President Lou Anna K. Simon earned $672,000 in fiscal 2012, and Wayne State University President Allan Gilmour earned $506,000, according to the Chronicle.
The Chronicle analyzed the salaries of six college leaders in Michigan, including the leaders of MSU, WSU, Central Michigan University ($431,000), Oakland University ($437,500) and Western Michigan University ($471,400).
"I look at their compensation and what they do, and then I look at a CEO of a Fortune 500 company, and I go 'wow, they're doing it at that price?'" said Michael Boulus, executive director of the President's Council for State Universities of Michigan. "They deserve every penny they get, given the fact that what they do most is not only lead the university, but raise money for the university."
Coleman, for example, is credited with being one of the best fundraisers in higher education. She recently secured a $110 million gift, the largest in school history, from a California billionaire that will be used to help build a dormitory for graduate students.
The median total compensation for the 212 presidents at 191 public research colleges surveyed by the Chronicle was $441,392. That figure represents a 4.7-percent increase over 2010-11.
The Chronicle did not report on Eastern Michigan University President Susan Martin's pay. On Friday, Martin was granted a contract extension that raises her base pay to $300,000 a year. Martin collected $295,000 in 2011.
E. Gordon Gee, president of Ohio State University, earns $1.9 million a year and received the third-highest pay among public university presidents in fiscal 2012, according to the Chronicle report.
University of Maryland President Wallace Loh, who earned his Ph.D. at U-M, made $483,000; University of Virginia President Teresa Sullivan, who used to be provost at U-M, earned $731,500; and University of Florida President Bernard Machen, who also used to be provost of U-M, earned $834,562.
Coleman also serves on the executive boards of Johnson & Johnson and Meredith Corp. She took home $425,400 in 2011 for her service on those two boards, according to a Chronicle database derived from U.S. Exchange Commission filings.
Coleman was ranked as the fifth-highest paid public university leader in fiscal 2011, according to a Chronicle database from that year.
Top 10 highest-paid public university presidents in fiscal 2012:

1. Graham B. Spanier*, Pennsylvania State University, $2,906,271
2. Jay Gogue, Auburn University, $2,542,865
3. E. Gordon Gee, Ohio State University, $1,899,420
4. Alan G. Merten*, George Mason University, $1,869,369
5. Jo Ann M. Gora, Ball State University, $984,647
6. Mary Sue Coleman, University of Michigan, $918,783
7. Charles W. Steger, Virginia Tech, $857,749
8. Mark G. Yudof, University of California, $847,149
9. Bernard J. Machen, University of Florida, $834,562
10. Francisco G. Cigarroa, University of Texas, $815,833
Kellie Woodhouse covers higher education for AnnArbor.com. Reach her at kelliewoodhouse@annarbor.com or 734-623-4602 and follow her on twitter.