Posted on
Wed, Nov 3, 2010 : 11:18 a.m.
University of Michigan modifies order barring Assistant AG Andrew Shirvell from campus
By David Jesse
The University of Michigan has modified its order barring Michigan Assistant Attorney General Andrew Shirvell from campus, spokeswoman Diane Brown said this morning.
Effective today, Shirvell will be allowed back on campus under the following conditions: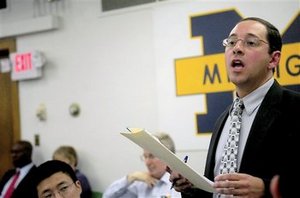 • He can have no physical or verbal contact with University of Michigan student body president
Chris Armstrong
.
• He cannot be anywhere that he can reasonably expect Armstrong to be.
An exemption allows Shirvell to attend U-M intercollegiate sporting events even if Armstrong is there.
If Shirvell violates the modified order he can be arrested and charged with trespassing.
The university barred Shirvell from campus Sept. 14 following Armstrong's request the day before for a personal protection order against Shirvell. The assistant attorney general had been attacking Armstrong on a blog accusing him of promoting a "radical homosexual agenda" and had shown up at events on campus to criticize Armstrong. Shirvell also showed up at Armstrong's house to heckle him, Armstrong said.
Armstrong has since dropped the request for the personal protection order. Last week, Shirvell's lawyer threatened to sue the university if the trespass order was not lifted. On Friday, Armstrong filed a request seeking to have Shirvell disbarred.
Shirvell and his lawyer met with U-M Department of Public Safety officials Friday. DPS issued the ruling modifying the order today.