Posted on
Thu, Nov 15, 2012 : 5:33 p.m.
University of Michigan music school upgrade, library expansion and stadium paint job approved by regents
By Kellie Woodhouse
University of Michigan's eight regents approved six new construction projects during their 3 p.m. meeting Thursday.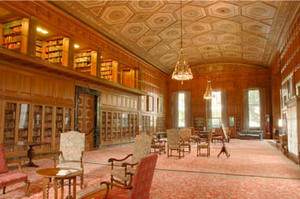 U-M Photo
The governing board OK'd a $23.3 million addition and renovation to the building that houses U-M's music program, a $17.5 million upgrade to a building on its
North Campus Research Complex
and a $16.8 million expansion and renovation to William L. Clements Library, which houses the university's collection on early American history.
A $6 million paint job for the upper bowl of Michigan Stadium also was approved, as was a $3.2 million central campus-area utility tunnel replacement and $2.6 million College of Pharmacy renovation.
Two of the projects were largely funded by donors.
William and Delores Brehm gave $8 million toward the music school expansion, which will be named the Brehm Pavilion.
The Avenir Foundation's gave $6 million toward the Clements Library expansion. Another $800,000 was donated by members of the Clements Library Associates Board of Governors. The renovation of the 1920s-era building will make U-M's American culture collection easier to see and more accessible to the public, while also adding storage for items not on display.
The donations follow another large gift to a separate U-M arts program. Another couple, Penny and E. Roe Stamps, donated $32.5 million to the art and design school earlier this year.
The music school addition and renovation addresses a shortage of practice rooms and modernizes the 1950s-era Earl V. Moore building on North Campus, providing additional storage, offices and classrooms as well. In fiscal 2011, the School of Music, Theater and Dance enrolled 1,156 students enrolled in SMTD, the vast majority of them in the music program, but just 50 practice rooms open to all.
"This is a project that has been [in] a very long panning cycle with lots and lots," said U-M CFO Timothy Slottow.
Added U-M's provost, Phil Hanlon: "This renovation is very sorely needed."
The six projects are projected to cost a combined $69.4 million. U-M officials estimate they'll provide roughly 137 construction jobs.
Kellie Woodhouse covers higher education for AnnArbor.com. Reach her at kelliewoodhouse@annarbor.com or 734-623-4602 and follow her on twitter.