Posted on
Tue, Aug 2, 2011 : 2:40 p.m.
University of Michigan nurses add to unfair labor practice charge
By Juliana Keeping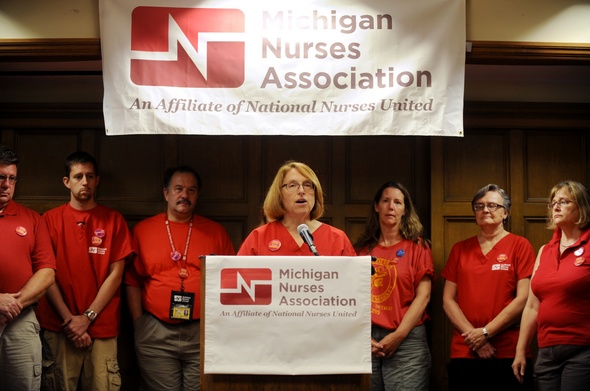 Melanie Maxwell I AnnArbor.com
The University of Michigan nurses filed an amended complaint with the state that alleges bad bargaining practices on the part of their employer, they announced at a press conference today.
The event at the Michigan Union was called a day before the nurses are scheduled to resume contested contract talks with U-M that fell apart July 9.
The two sides disagree over wage increases, health insurance and other benefits, representatives for the 4,000-member nurses union said.
The president of the U-M Professional Nurse Council characterized the concessions asked for by the employer as an attack on working women, since the majority of nurses at UMHS are women, and a "serious erosion of nursing standards."
"It's just not right," UMPNC President Katie Oppenheim said.
Oppenheim did not provide specifics when asked what the nurses wanted from U-M in a new contract, though she confirmed they are asking for wage increases.
She also said the two sides have made strides in compromising on non-economic areas like staffing.
The last contract was ratified in 2008. The nurses have been working under the expired contract since July 1.
Nurses who spoke at the press conference said they don't think the new claim or press conference will impact negotiations Wednesday, and that disagreements won't impact patient care.
Patients can expect "excellent service from the whole team," said Elizabeth Cheslak, a birth center nurse for UMHS. "We're not going to compromise our patients' care."
The nurses filed an unfair labor practice claim in June with the Michigan Employment Relations Commission on behalf of a 40-member vascular access services team, which in April was told their work hours would change without UMHS first negotiating with the Michigan Nurses Association, the group hashing out a new contract on behalf of U-M's nurses.
Today's move adds allegations to that initial claim, the nurses said.
Those allegations involve UMHS using concessions related to health insurance as a bargaining chip for nurse wages, which they say is a violation of state labor law.
The nurses also provided more information on an informational picket planned for Aug. 13.
The hour-long event will be a "sea of red," Cheslak said. Nurses will hand out information on the ongoing negotiations. Some nurses have been wearing red scrubs and buttons to show support for the union as the contract talks stretch on.
The union is an affiliate of the AFL-CIO and a member of National Nurses United.
Nurses who spoke at the press conference attended by more than 20 supporters repeatedly attacked UMHS for choosing to build new buildings and provide wage increases to executives rather than pass earnings to nurses and other employees most responsible for patient care.
Juliana Keeping covers general assignment and health and the environment for AnnArbor.com. Reach her at julianakeeping@annarbor.com or 734-623-2528. Follow Juliana Keeping on Twitter