Posted on
Mon, Jul 25, 2011 : 2:58 p.m.
University of Michigan nurses union plans informational picket over contract negotiations
By Juliana Keeping
The University of Michigan nurses union is making plans to picket, even as halted negotiations are scheduled to resume Aug. 3 and nurses are staying on the job without a contract.
But in the mean time, the 4,000-member union has called a general membership meeting on Tuesday to discuss the contract negotiations, which stalled after the two sides failed to reach an agreement earlier this month.
Some nurses are wearing red buttons and donning red scrubs to support for the union. And a petition is circulating to support "Safe patient care," said Katie Oppenheim, chair of the University of Michigan Professional Nurse Council.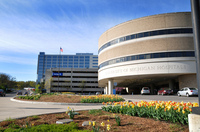 "To continue to have world-class nursing, we have to be able to continue to keep nurses here who are able to do the work of the most complicated patients," Oppenheim said. "We have to have both work conditions and work-life balance conditions that make people want to work here."
The union has not given notice to U-M that it is planning an informational picket on Aug. 13, but it will do so shortly, Oppenheim said.
The petition, she said, will be forwarded to the U-M Board of Regents in time for its September meeting.
A union official told AnnArbor.com in June the nurses were being asked to take what they characterized as major concessions in the areas of health insurance, retirement, overtime and paid time off usage, according to the Michigan Nurses Association, the collective bargaining representative for U-M's nurses. Oppenheim said Monday issues involving these areas remain unsettled between the union and the employer.
The current contract for nurses was ratified in 2008 and expired July 1, though the nurses continue to work under it. The two sides had been negotiating a new contract since April and took a break from the bargaining table July 9.
The union wants to educate its members about the contract negotiations and take feedback on the employer's proposals at the meeting tomorrow, said Ann Kettering Sincox, an MNA spokesperson.
"The nurses are demanding a contract that will ensure the highest quality of patient care while respecting their professional practice, hard work, dedication and experience," Sincox said via e-mail.
General membership meetings will be held throughout the day Tuesday at the IBEW Local 252, 7920 Jackson Road, according to the union's website.
The union is an affiliate of the AFL-CIO and a member of National Nurses United.
Members of the union include staff nurses and advanced practice nurses, such as nurse practitioners, nurse anesthetists and certified nurse midwives. The average UMHS staff nurse's pay rate is $33.74 per hour or $70,179 annually, according to the health system.
Juliana Keeping covers general assignment and health and the environment for AnnArbor.com. Reach her at julianakeeping@annarbor.com or 734-623-2528. Follow Juliana Keeping on Twitter