Posted on
Thu, Jan 24, 2013 : 5:59 a.m.
Multibillion-dollar economic impact of Michigan's 3 research universities expected to keep 'growing and growing'
By Kellie Woodhouse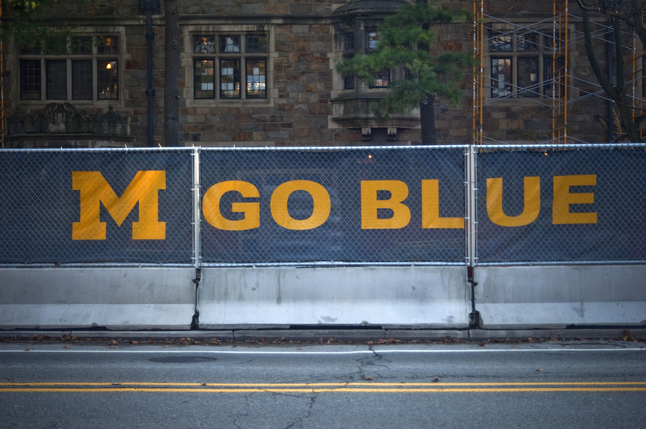 Joseph Tobianski | AnnArbor.com file photo
Michigan's three top public universities don't simply educate tens of thousands of students, they also
spread billions of dollars throughout the state's economy
each year.
The University Research Corridor —composed of Wayne State University, Michigan State University and the University of Michigan— has an estimated $15.5 billion annual economic impact on the mitten state, according to a 2012 Economic Impact Report composed by the East Lansing-based Anderson Economic Group and commissioned by URC.
The south central region —one of 10 regions in Michigan and the area that includes Ann Arbor— experienced an estimated $4.6 billion economic boon in 2011 because of the URC, according to the report. That impact is mainly due to U-M's activity in the area.
Due to the URC, nearly 41,000 people were employed —either directly or indirectly— in the south central region, more than double any other area in Michigan.
The report estimated that in 2011 the URC was responsible for more than 74,000 direct and indirect jobs overall, including jobs throughout Michigan, Indiana and Ohio. The corridor directly employed more than 52,200 people in 2011 —paying $4.6 billion in salaries— and spent $3.4 billion on non-payroll operational expenses. Of the corridor's employees, 11,400 are faculty and 40,800 are staff.
The only area that received more of an economic boost from the URC was southeast Michigan, where Wayne State University is located, as are several U-M offshoots, including U-M's Dearborn Campus. That area saw a $5.64 billion impact in 2011, according to the report.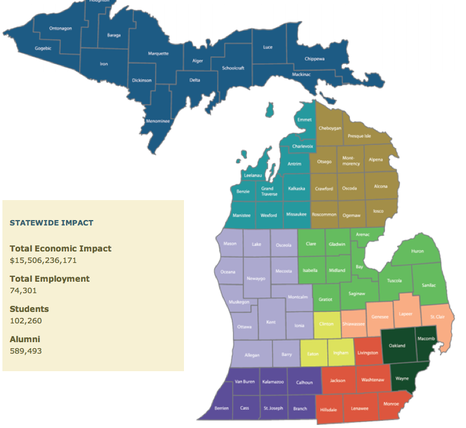 U-M infographic
For every dollar the state invested in the three URC universities, it saw $17 in economic benefits, according to the report.
"We don't see it plateauing, we just see it growing and growing," URC executive director Jeff Mason said of the corridor's economic impact throughout the state.
URC's estimated economic impact grew by $300 million from 2010 to 2011 and by $2.6 billion since 2007, when the first economic report was issued.
It was in 2006 that the three Michigan universities began considering themselves a unit, realizing how collaborative relationships between research schools in California, Massachusetts and North Carolina had strengthened their performances and reputations.
"It's relatively young in terms of collaboration," Mason said, noting that North Carolina's Research Triangle Park has existed for nearly five decades. "What you're seeing now is, from the presidents all the way down to the individual faculty in the institutions, the idea of [embracing] collaboration between the institutions and building on the strengths of each of the institutions.
"The whole is greater than the sum of its parts," Mason continued.
Also in the south central region, which includes Ann Arbor, nearly 69,000 alumni from U-M, MSU and WSU earn a combined $3.47 billion.
Statewide, URC alumni remaining in Michigan earned $29.2 billion in 2011, when there were slightly under 590,000 URC alumni living in state, according to the report.
"Certainly in the Ann Arbor region ... there is a significant impact," said Mason. "But even in the Upper Peninsula and in northeast Michigan and other regions, [URC institutions] are making significant impact as well."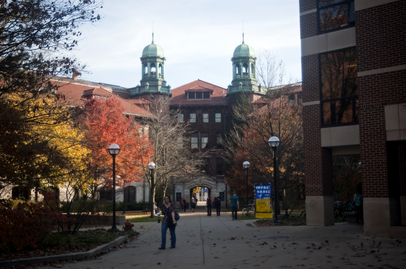 The estimated net economic impact in the Upper Peninsula, for example, is $63.5 million, according to the report.
The report also measured URC student spending, which was estimated at $1.67 billion in 2011, and URC faculty and staff spending, which was estimated at $2.8 billion. The URC generated an estimated $375 million in tax revenue for the state.
"Michigan's economic success is vital to our students' ability to get good jobs when they graduate," U-M President Mary Sue Coleman said in a statement. Coleman declined to be interviewed for this article.
Added Mason:
"There are companies that are being attracted here to the state of Michigan because of these institutions. Look at things like Google or Barracuda [Networks] down in Ann Arbor or IBM in East Lansing."
Meanwhile, the report found that URC is one of the largest research corridors in the nation. The trio of schools awarded roughly 31,680 degrees in 2011. Nearly 138,000 degree-seeking students were enrolled in the three universities in 2011.
Other findings from the report:

URC universities spent more than $2 billion on research in 2011
The corridor's research and development spending has grown by 43 percent since 2007, rising from $1.369 billion in 2007.
Eighteen startup companies sprouted from URC in 2011. Eleven of those startups were cultivated out of U-M.
Since 2002, the corridor has cultivated a total of 149 startups.
URC students make up roughly 23 percent of the overall college students in Michigan.
Kellie Woodhouse covers higher education for AnnArbor.com. Reach her at kelliewoodhouse@annarbor.com or 734-623-4602 and follow her on twitter.