Posted on
Mon, Nov 21, 2011 : 5:57 a.m.
University of Michigan police to begin holding regular public meetings
By Kellie Woodhouse
The University of Michigan Department of Public Safety will hold its first public meeting of the fall semester at 8:30 a.m. Tuesday.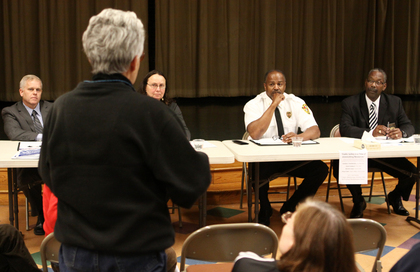 The meeting comes nearly three months after new public safety director Greg O'Dell promised to hold weekly public meetings throughout the year.
DPS has not held any public meetings so far, but O'Dell did attend an Old West Side Association public safety forum Oct. 26 at Bach Elementary School.
It also comes after police this week charged a Canton man in a dormitory sexual attack and after a series of sexual attacks that occurred over the summer.
At next week's meeting, DPS officers involved in key crime investigations will brief attendees on recent crime activity and trends.
DPS anticipates similar meetings will be held twice each semester, a decrease from O'Dell's original promise of weekly meetings.
"We really need to hear what the community has to say, what the community's concerns are," O'Dell said in August.
Police spokeswoman Diane Brown said that holding regular public meetings is a significant change for the department.
"We haven't done this before," she said. "It's a new thing for us."
The meeting will be held at the DPS main office at 1239 Kipke Drive near Crisler Arena and Michigan Stadium.
Kellie Woodhouse covers higher education for AnnArbor.com. Reach her at kelliewoodhouse@annarbor.com or 734-623-4602 and follow her on twitter.