Posted on
Fri, Jul 19, 2013 : 5:57 a.m.
University of Michigan approves designs for West Quad, field hockey and lab upgrades
By Kellie Woodhouse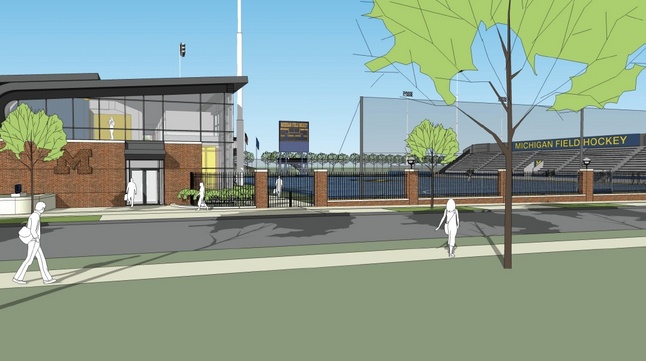 Courtesy rendering
The University of Michigan Board of Regents approved the designs for three major construction projects Thursday.
U-M will now go forward with a complete overhaul of the athletic department's field hockey venue, an upgrade to the West Quadrangle residence hall and a renovation of a 1950s-era engineering laboratory and classroom building.
A renovation to the George Granger Brown Memorial Laboratories on North Campus, approved in September 2011, will cost $47 million, with $30 million funded through a capital outlay from the state.
The renovation includes an upgrade to HVAC, electrical and alarm systems lab upgrades and the creation of new classroom space. G.G. Brown, as the building is commonly called, houses U-M's chemical, civil, materials sciences, and mechanical engineering departments.
A 62,500-square-foot addition to the building, creating a new space for nanotechnology research, precedes the renovation .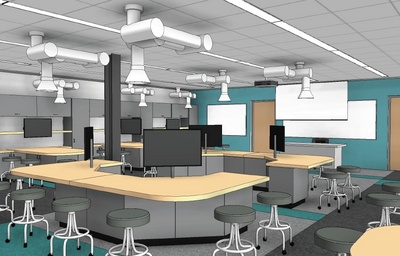 Courtesy rendering
The project was designed by Troy-based Integrated Design Solutions.
Meanwhile, U-M's field hockey facility is also getting an upgrade.
The athletic department wants to build a new field hockey team center and grandstand and demolish the team's existing locker rooms, a project costing $13.5 million.
A new 13,000-square-foot building is planned for the space and will include locker rooms, offices, training areas, hydrotherapy pools and broadcast capabilities. The new stadium area will have the capacity to seat 1,500 people and will include bathrooms and a concessions stand. Ocker Field, where the field hockey team plays, will get new turf, a new scoreboard and new lighting.
An architect working on the project said the turf of the new field will be blue.
Lastly, U-M plans to gut the kitchen facility in West Quadrangle and Cambridge House and create new community spaces for residents. Construction for the residence hall upgrade is scheduled to begin in fall 2014 and last a year.
"This is a big project but it's [being completed] fast," U-M Chief Financial Officer Timothy Slottow told regents.
After the $114.5 million renovation, the dorm will boast single rooms, double rooms and two-story suites.
The 1,100-bed West Quad will join a long list of residence halls receiving state-of-the-art renovations at the Ann Arbor school. The central campus dormitory was built in 1937.
Crews will update bathrooms, kitchens, bedrooms, community spaces and electrical, heating, plumbing and alarm systems while preserving the hall's historical integrity, an architect said Thursday.

Courtesy rendering
The article has been corrected to note the G.G. Brown renovation is a separate from an addition to the building.
Kellie Woodhouse covers higher education for AnnArbor.com. Reach her at kelliewoodhouse@annarbor.com or 734-623-4602 and follow her on twitter.